Alameda Belt Line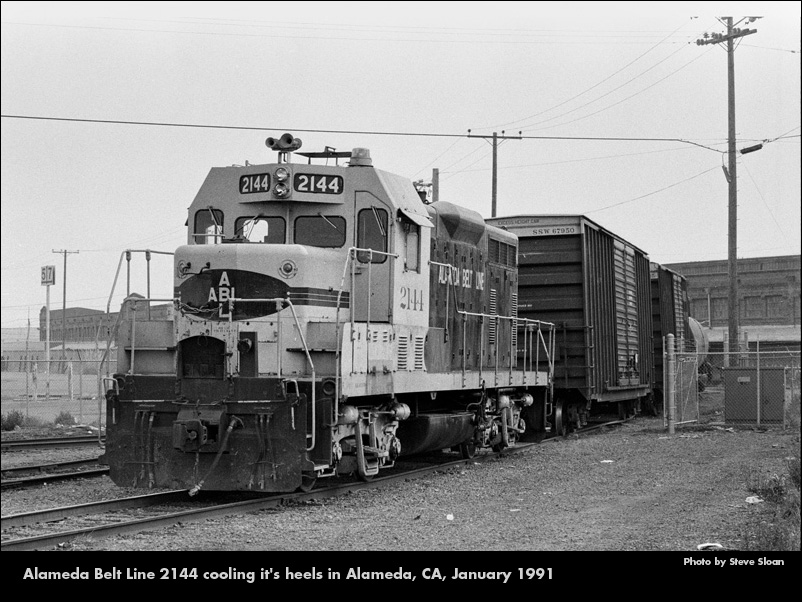 I hope you enjoy these photos as much as I enjoyed taking them.
Alameda Belt Line
The Alameda Belt Line (reporting mark ABL) was incorporated on January 12, 1925, to take over about 1.2 miles (1.9 km) of trackage constructed by the city of Alameda, California, on Clement Avenue in 1918. The company acquired the 22-acre property on February 17, 1926, and was jointly owned by the Western Pacific Railroad and the Atchison, Topeka and Santa Fe Railway. Due to mergers, it was eventually jointly owned and operated by the BNSF Railway and Union Pacific Railroad.
The ABL last operated in 1998, when its major shipper, a Del Monte cannery, closed. The Union Pacific then operated over the line through trackage rights to serve one remaining shipper until late 2001. The final locomotive on the line was leased to the Central California Traction Company in Stockton, California.
Click on the following links to see pictures related to the Alameda Belt Line:
ABL 2144 EMD/ATSF GP7u
ABL 2144 is an EMD/ATSF GP7u. Reportedly: ABL 2144 was built by EMD in 1953 as ATSF 2868, a GP7, builder number 18885. It was rebuilt and renumbered to ATSF GP7u 2144 in 1978. Other reporting marks and numbers reportedly associated with this locomotive include: CCT 44 and GOOS 926.
ABL 2144 in Alameda, CA

Alameda Belt Line (ABL) 2144 cooling it's heels in Alameda, CA, January 1991.

Camera Nikon FE2, Kodak Tri-X Negative 1.1.34.13.36:
Click to view images: Scan 2009110101.4
---
NOTE: If anything is my "life's work" it's my train photos. — If you scan an analog photo of mine, or if you share a digital photo I took that does not have my photo credit, add something like "Photo by Steve Sloan" directly onto the image. It's not enough to say "Photo by Steve Sloan" in the text caption. People download photos off the Internet/Social Media platform and whatever is in the text does not stick to the photo. Then, they get reshared and that data is lost. I deserve credit for my work.
You may not use my photos for profit and/or as part of, or to sell, a product or service without my consent.
---
Special Thanks
All the great folks who helped me out with information for these Web pages!