Ontario Midland
Railroad Corp.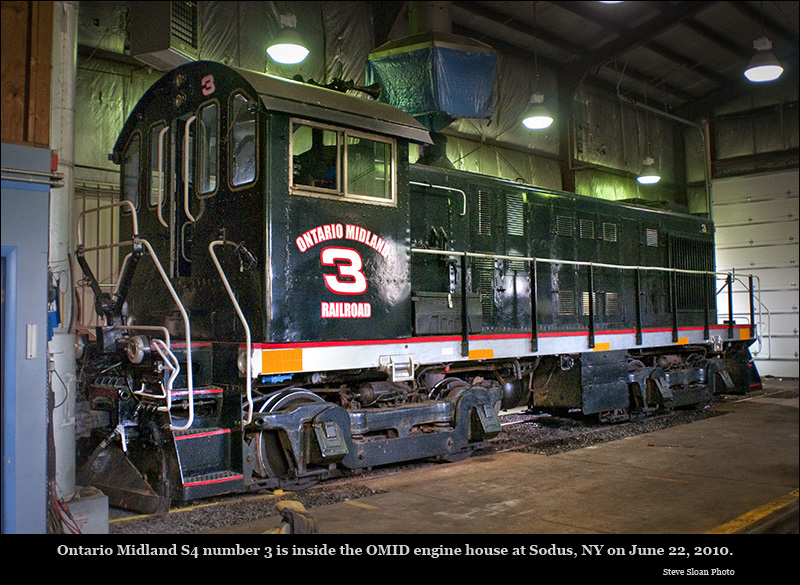 According to Wikipedia: The Ontario Midland Railroad (reporting mark OMID) is an American railroad company operating in western New York.
It was founded on 5 October 1979 and was created to save the entire Rome, Watertown and Ogdensburg Railroad (Hojack) line from Oswego's West Yard to Suspension Bridge in Niagara Falls. However, the railroad managed to buy only from Hannibal in Oswego County to Webster in Monroe County. The railroad also operates a line formerly operated by Conrail, Penn Central, Pennsylvania Railroad from Wallington, where it meets the Hojack, to Newark to interchange with CSX's ex-Conrail (New York Central) Waterlevel Route.
Operations on the Ontario Midland use VHF radio communications at a frequency of 161.370MHz. The OMID carries food products, lumber, fertilizer, pulpboard, and chemicals. The OMID moves about 850 cars a year and operates 56 miles of track. It operates Monday to Friday from 8:00 a.m. to 4:00 p.m. (8:00-16:00). For a number of years until about 2003, the OMID ran fall foliage excursions in conjunction with the Rochester NRHS chapter, which owns the Empire State coach cars used for the trips.
Ontario Midland Railroad
Click on the following links to see pictures related to the Ontario Midland:
Ontario Midland Alco S3 Number 3 "Dale Earnhardt" is shown in the Ontario Midland engine house in Sodus, NY on June 22, 2010. Number 3 is an Alco S4 built in 1953 and formerly of the Genesee & Wyoming and the New York Central (NYC). Paul (PJ) Saracen (shown in the second photo) of the OMID is a man passionate about Alcos. He even owns his own S4 (not the #3). I had a great conversation with PJ in Sodus, NY on June 22, 2010.
Nikon D300s Digital Image Number 2010062201_011 | 2010062201_014
Related Links
Click on the following links to see other posts related to this:
These are from my trip to western New York and elsewhere chasing trains and being a tourist.
This is a Web page with information relating to the OMID.
Special Thanks
All the great folks who helped me out with information for these Web pages!