Lloyd D. Sloan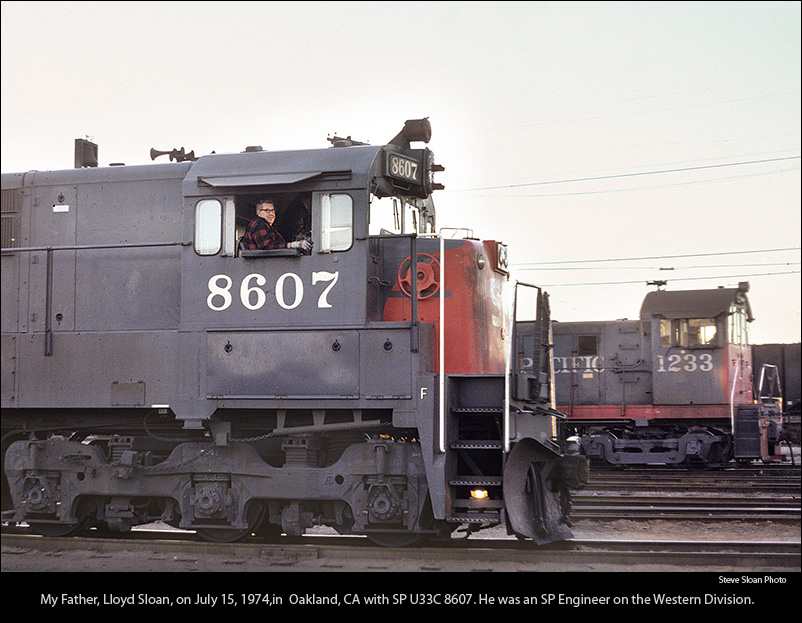 "And the sons of Pullman porters
And the sons of engineers
Ride their father's magic carpets made of steel."

Steve Goodman must have been a child of a railroad man. Goodman's song, The City of New Orleans, captures what it feels like being the child of a railroad man so concisely in these three stanzas.

I am the son of an engineer. This is a picture I took of him at work in the early 70's. Everything about him was so unbelievably bigger than life. The biggest thing about him was his personality.

I dream about him very often. To me, he was the train. He was steel.
Photos of Lloyd D. Sloan
Click on these links to see photos of my dad:
My dad, Southern Pacific Western Division Engineer Lloyd D. Sloan, poses at the throttle of SP Alco S6 1206 at Port Chicago, CA in August, 1972. I was 16 when I took this photo on Wards Film. It had color shifted terribly and I thought the image was lost. Thank You Photoshop!
Analog Image, Ward's Film Slide 5.125, Scan 2010092601_001
My dad at the throttle, July 15, 1974, Oakland, CA. Image: 2008071401_001
Special Thanks!
To all the great folks who have helped me out with information for these Web pages!