Trona Railway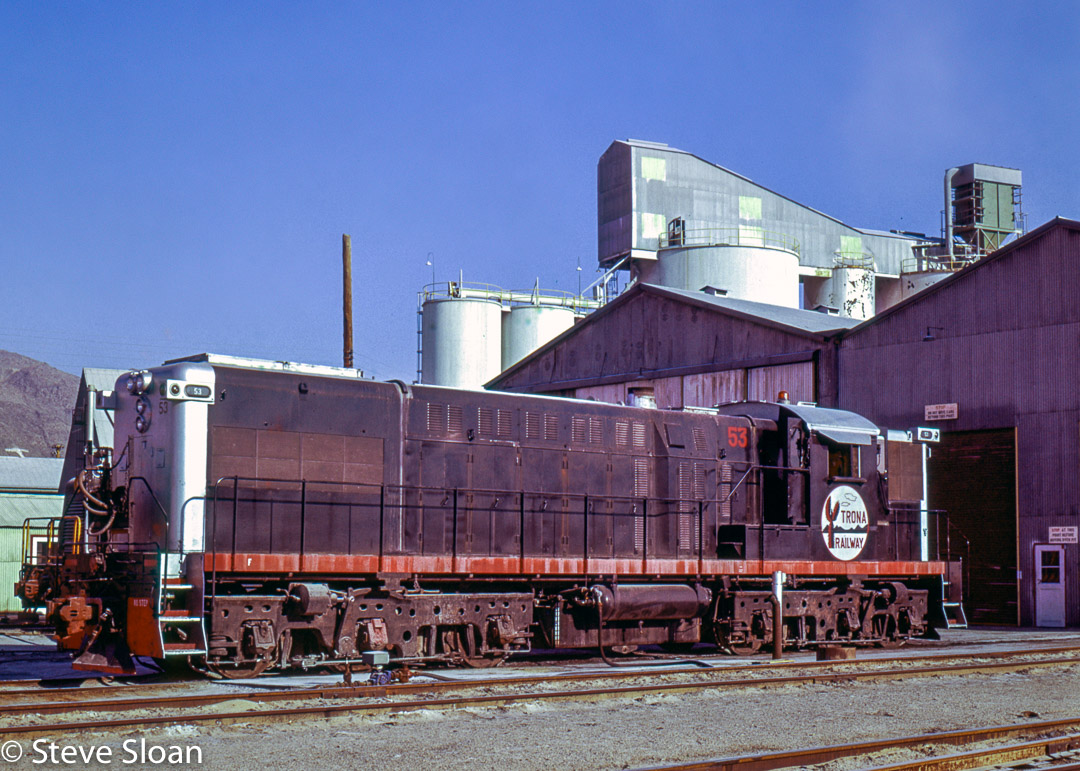 Trona 53, former SP 5249, sitting next to GE 80 tonner 49, ex US Navy 6500297, in Trona, CA on October 21, 1974.
I hope you enjoy these photos as much as I do.
Trona Railway
Tom Moungovan wrote on March 27, 2010, "Wonderful old images Steve...and they really bring back some great memories for me. When I was stationed @ Edwards AFB in the 60's, I used to go out there frequently on days off. The Trona was pretty lenient about being on the property, especially if they knew who you were. I got to know an electrician named Pete Gagich who took a lot of his time to show me things around the enginehouse. He also hostled and I got to experience that unique throttle that the centercabs had. Those were pulling monsters, but also the worst riding locomotives that I have ever been on. Thanks again for your post."
Click on the following links to see pictures related to the Trona Rwy:
Trona 53, Baldwin AS616
According to good sources, including Strapac's fantastic SP Compendium series, Trona 53 was built in April 1951 by B-L-H as a model AS616, builders number 75139, SP 5249, the sole unit in SP Class DF-107.
The disposition of this locomotive is, sold by SP to Trona in September 1960. Delivered in Nov. 1960. In Nov. 1992 sold to Johnson Terminal. July 1995 sold to SMS Rail Service, becoming SMS 553.
Trona AS616 53 at Trona

Trona 53, former SP 5249, sitting next to GE 80 tonner 49, ex US Navy 6500297, in Trona, CA on Monday, October 21, 1974.

B&W photo of Front
These black and whites were taken on Tri-X shot in a Kowa SET camera that had a 50mm lens and a leaf shutter. Scan 2009112802.7

From Photo Album 1001.1.37.1, Scan 2018022501ph.11
From Negative 1.0.2.10.43, Scan 2009112802ph.7

B&W photo of Rear
From Negative 1.0.2.10.42, Scan 2009112802.8
B&W photo of Nose
From Negative 1.0.2.10.1, Scan 2009112802.9
120 Color Photo
Shot with a Yashicamat 124G, 120, Ektachrome Professional 120 E3 6115 Transparency Film processed by Larry Sprock.
Transparency 1.0.48.30.1, Scan 2018111901.1
Unknown 35mm film camera, Kodacolor II Film, Negs 1.0.4.35.19 & 20:
Scan 2021011301ph.3, 2021011301ph.2
Trona 54 Baldwin AS616
Trona 54 is a Baldwin AS616 built in June 1952, builders number 75357. It was built for Kaiser Steel as #1012B, it was renumbered 1028 Kaiser Eagle Mountain RR. It went to Rayonier as #14, in 1973. It was acquired from Rayonier in 1986. It was sold Johnston Terminals 1993 and reportedly now is at SMS Rail Lines as 554.
Trona 54 in Mojave, CA

Trona 54 is in Mojave, CA on Sunday, February 28, 1993.
---
Trona 101, Caboose
Trona Caboose at Museum

The Trona History house at the The Searles Valley Historical Society in Trona, CA has caboose 101. Photographed on Friday May, 24, 2019 in Trona.
---
Related Links
---
NOTE: If anything is my "life's work" it's my train photos. — If you scan an analog photo of mine, or if you share a digital photo I took that does not have my photo credit, add something like "Photo by Steve Sloan" directly onto the image. It's not enough to say "Photo by Steve Sloan" in the text caption. People download photos off the Internet/Social Media platform and whatever is in the text does not stick to the photo. Then, they get reshared and that data is lost. I deserve credit for my work.
You may not use my photos for profit and/or as part of, or to sell, a product or service without my consent.
---
Special Thanks
All the great folks who helped me out with information for these Web pages!

This work is licensed under a Creative Commons Attribution-NonCommercial-NoDerivatives 4.0 International License.