Caltrain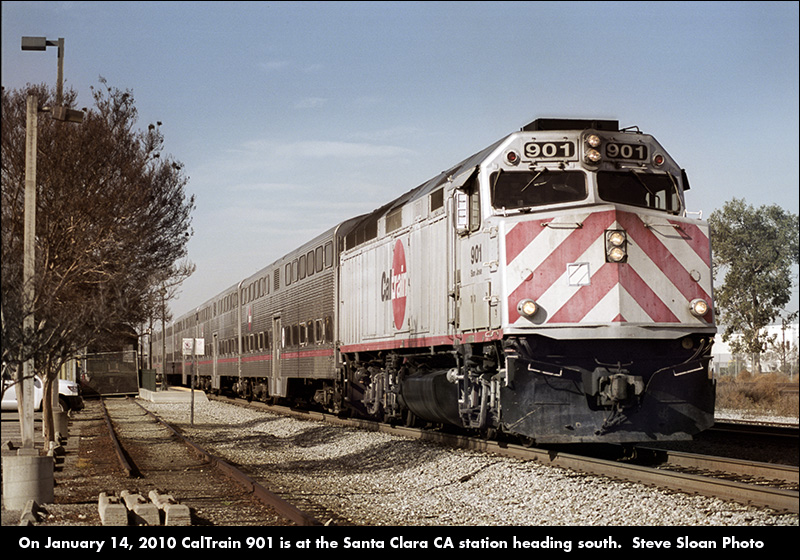 I hope you enjoy these photos as much as I enjoyed taking them.
Caltrain - JPBX
Follow this link for Amtrak California (CDTX). Click on the following links to see pictures related to the Joint Powers Board (CalTrain):
Caltrain F40 901 on January 14, 2010 at Santa Clara, CA.
Analog Image, Nikon FM2, 35 mm Kodak Ektar 100 film
Caltrain JPBX 908 EMD F40PH-2, "Redwood City"
Joint Powers Board (CalTrain) JPBX 908 EMD F40, "Redwood City" built as CDTX 908. Caltrain Designation F40PH-2-CAT was built by EMD in April 1985 serial number 836077-9. It was overhauled by Alstom in 1999. It is rated at 3200 hp and features a Caterpillar 6-cylinder HEP generator.
908 Leading The Suntan Special

On Saturday, May 18, 1996 Caltrain 908 leads the Suntan Special across Seabright Avenue near the intersection with Murray St., in Santa Cruz, CA. It was still the SP then.

908 leading Caltrain commute 218

On a chilly Jan. 2, 2015 Caltrain commute 218 is being led into Diridon Station in San Jose by Caltrain F40PH-2 JPBX 908.
Caltrain F40 914 shoves at the back of train 439 as it stops at Santa Clara heading toward San Francisco on Sunday, October 3, 2010.
Analog Image, Nikon F3, 35 mm Kodak 160 NC film, Scan 2010102601_005 | 2010102601_006 | 2010102601_007
Caltrain F40 919 on October 21, 2010 at College Park, San Jose, CA.
Analog Image, Nikon N90, 35 mm Fuji Pro 400H film, Scan 2010102602_005
At 11:38 a.m. on Feb. 8, 2011 Caltrain 919 is pulling train 438 at Santa Clara, California.
Nikon D300s Digital Image 2011021203.2
Related Links
Click on the following links to see other posts related to this story:
The Caltrain Web site.