Funiculars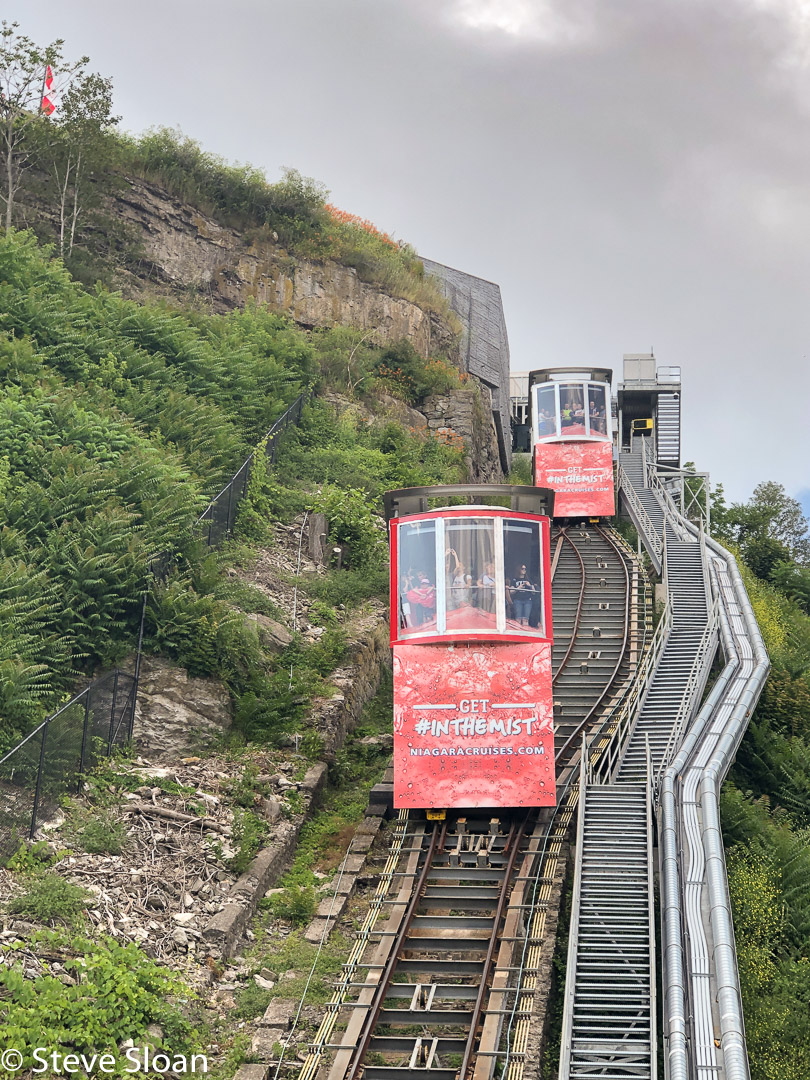 On Thursday, July 18, 2019, the day after our 25th Wedding Anniversary, Susie and I went to Niagara Falls. We rode the The Hornblower Niagara Funicular in Niagara Falls, Ontario, Canada.
I hope you enjoy these photos as much as I do.
Funiculars
A funicular railway is a transportation system that uses cable-driven cars to connect points along a steep incline. By definition, a funicular uses two counterbalanced passenger cars attached to opposite ends of the same cable, which is looped over a pulley at the upper end of a track.
A funicular's two cars move in concert: as one ascends, the other descends simultaneously, an arrangement that distinguishes a funicular from other cable-guided transportation systems.
Funiculars
The Hornblower Niagara Funicular was built, as the Clifton Incline, in 1894. The line was renamed as the Maid of the Mist Incline in 1973. It closed in 1990 when it was replaced by a set of four elevators. After several years of construction, Hornblower Niagara Cruises reopened the incline for the 2019 season as the Hornblower Niagara Funicular to enable more traffic to the boat tour.
---
Related Links
Click on the following links to see other posts related to this story:
Special Thanks
All the great folks who helped me out with information for these Web pages!

This work is licensed under a Creative Commons Attribution-NonCommercial-NoDerivatives 4.0 International License.