Logging Roads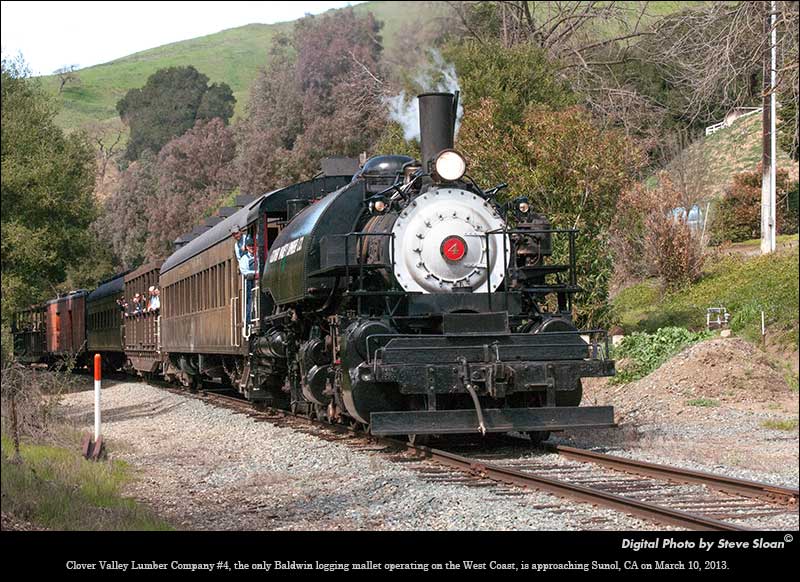 I hope you enjoy these photos as much as I do.
Clover Valley
Photos
Click on the following links to see pictures related to Clover Valley:
Various images, please click on links below to see specific images:

Clover Valley Lumber Company #4, the only Baldwin logging mallet operating on the West Coast, is approaching Sunol, CA on March 10, 2013.
Nikon D300s Digital Image: 2013031002ph.3
Dolbeer & Carson Lumber
D&C 2-6-2 Number 3
Lumber 2-6-2 Prairie. According to Ryan Barber, "Dolbeer & Carson Lumber. Built by Baldwin in 1922, it was originally Humboldt & Northern #3. Eventually went to Stockton Terminal & Eastern (ST&E) as #3 after D&C. It was stored for several years at ST&E's Stockton shop before being donated to the California State Railroad Museum (CSRM) in Sacramento in the late 80's or very early 90's. CSRM subsequently gave it to Timber Heritage Association where it resides today."
D&C Number 3, Date Unknown

Date unknown, location presumed to be the Dolbeer & Carson Lumber mill in Eureka, CA. Photographer most likely Bill Darrough, from the Jack Darrough Collection.
Recommended Links
A Web page maintained by PLA.
Special Thanks
All the great folks who helped me out with information for these Web pages!