Modesto and Empire Traction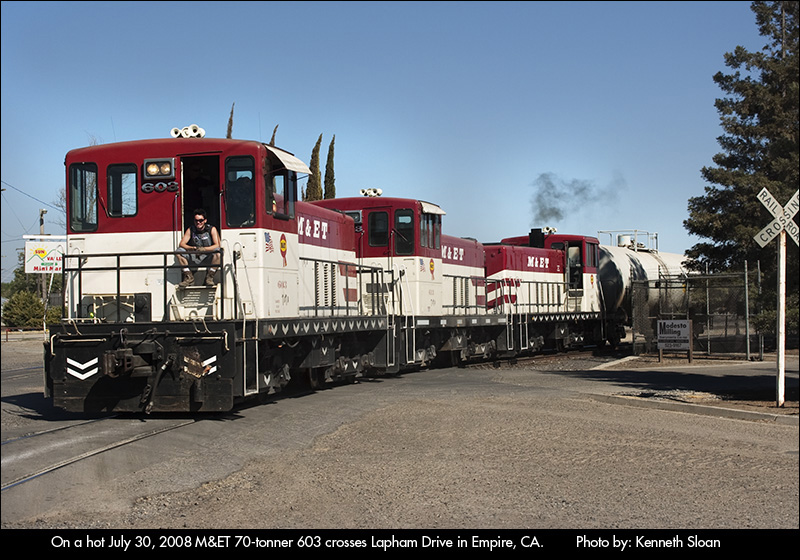 Click on image to enlarge
I hope you enjoy these photos as much as I enjoyed taking them. The Modesto and Empire Traction is still one of the most interesting surviving shortlines in California Railroading in the 21st century.
I am really regretting that I didn't focus attention on this little gem of a railroad until late 2008 early 2009. Even then, it was hard with my busy work schedule to concentrate time on it. But, I managed a few trips out there before the 70-tonners were put out to pasture.
I will admit I started photographing the M&ET because the locomotives they were running were really neat and were going away. What I found was that the M&ET wasn't just a railroad with really cool old locomotives. It is also a really cool railroad.
At first it was frustrating. Harry Wong once commented that chasing the M&ET was like playing Whack-A-Mole with an SUV. But, after spending time there and starting to get a feel for how the railroad operates you realize it is very logical and well run with great folks working there.
In this age of point to point commodity railroading and double stacks it is very refreshing to spend time chasing a well run profitable industrial switching railroad. The 70-tonners may be gone. But, even if only because the owners and employees take pride in running a railroad, the M&ET remains a blast from the past.
Some of these photos are from my 35mm and 6x7 black and white (bw) film cameras, some are color digitals, some are scanned slides and medium format transparencies. As always, comments, corrections and new information is appreciated!
~Steve Sloan [e-mail me]
Modesto and Empire Traction Company
Locomotives; Action and Roster
M&ET Locomotives
Click on the following links to see pictures related to the M&ET:
Other M&ET Related
Railpower Locomotives on M&ET
My M&ET Videos on YouTube
Related Links
Click on the following links to see other posts related to this story:
Special Thanks!
To all the great folks who helped me out with information for these Web pages!