Niles Canyon Railway (NCRY)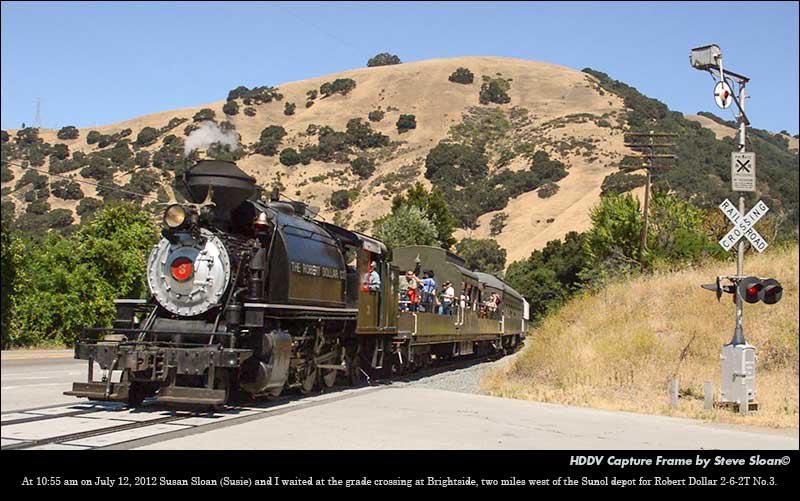 Niles Canyon Railway
Click on the following links to see pictures related to Robert Dollar Lumber Company on the Niles Canyon Railway:
Photos
Clover Valley Lumber
Clover Valley Lumber 4, Baldwin 2-6-6-2T
According to good sources, Clover Valley Lumber 4 was built in 1924 by Baldwin as a 2-6-6-2T, builders number 57684.
The disposition of this locomotive is, Built new as Clover Valley Lumber Co. No. 4, Loyalton, CA, became Feather River Lumber Co. No. 4, Loyalton, CA, yhen Tahoe Timber Co. of Nevada (stationary boiler use only), Verdi, NV, Acquired by PLA, July 1973, In service, Castro Point Railway, 1973 to 1985, Stored serviceable, Niles Canyon Railway, Sunol, CA. Returned to service there.
Mallet Double header at Brightside

An eastbound "NCRy Pro Railfan Event" mallet double header passes the crossing at Brightside, near Sunol, CA on Saturday, September 7, 2019. The lead mallet is the Skookum and the second is Clover Valley Number 4. Bringing up the rear is Yosemite Valley 330.
OCSR 7 Baldwin 2-4-4-2, "Skookum"
See the Oregon Coast Scenic Railroad
Robert Dollar Lumber Company 3, ALCo 2-6-2T
The No. 3 was built for the Walter A. Woodard Lumber Company of Cottage Grove, Oregon, in November 1927 by American Locomotive Company (ALCO) of Schenectady, New York. [More Info]

At 10:55 am on July 7, 2012 Susan Sloan (Susie) and I waited at the grade crossing at Brightside, two miles west of the Sunol depot on the Niles Canyon Railway for Robert Dollar 2-6-2T No.3.
Nikon D3200 HD Digital Video Capture Frame: 2012070701_001v.1
Western Pacific
Please see the Western Pacific Page(s) for WP engines on the NCRY.
Related Links
Click on the following links to see other posts related to this:
This is their official Web site.
Special Thanks
All the great folks who helped me out with information for these Web pages!