Norfolk and Western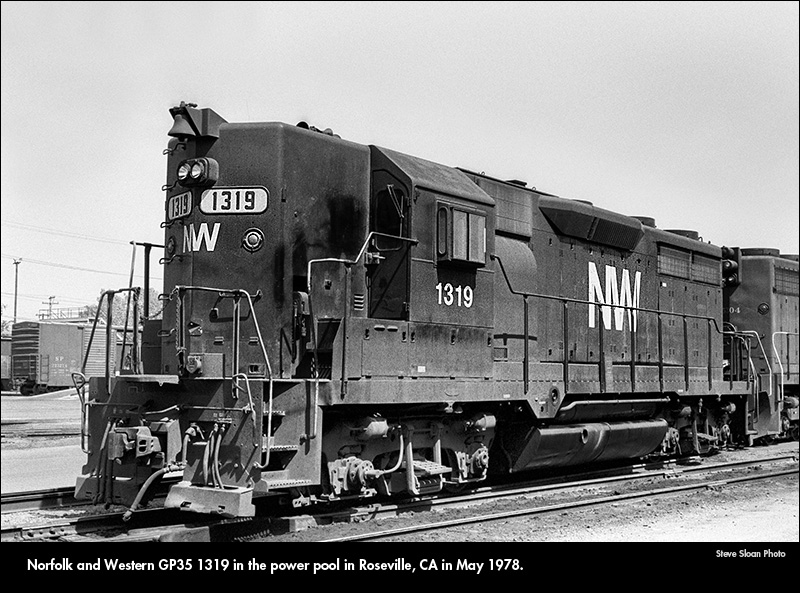 I hope you enjoy these photos as much as I do.
Norfolk and Western
Including Nickel Plate Road
Norfolk Western merged into, and suceeded by, the Norfolk Southern!
Click on the following links to see pictures related to the Norfolk and Western:
NW 1319 EMD GP35
Frame Number: 5679-12 Built: 1/1965
NW 8496 GE U30B
Serial Number: 37471 Built: 11/1970
Nickel Plate Road (NKP)
Also known as the New York, Chicago & St. Louis, the railroad connected markets in Chicago and the Midwest with the eastern terminal of Buffalo, N.Y. In 1964 the NKP was merged into the N&W.
NKP 79 ALCo S4, "Eugene Redden"
According to good sources NKP 79 was built in 1953 by ALCo as a model S4, builders number 80488, NKP 79, Class ASM-10d. In 1964 it became N&W 2079.
This locomotive was sold to RSA Leasing in Sodus, N.Y. in 1982. They leased it to the Allegheny Southern Railroad in Pennsylvania where it became their number 17. The unit was returned to Sodus in 1985. In September 1987, it was purchased by John Redden, a private individual and moved to the museum. In 1993 and 1994, it was restored to its original Nickel Plate paint scheme and number. After many years of reliable operation at the museum railroad, the unit was taken out of service and stored by the owner in 2009.

According to: Christopher Hauf, "Donated a few years back to the museum by the owner and dedicated to his Dad, Eugene, who helped maintain the engine for many years before his passing. I had the pleasure of volunteering with both John and Gene for many years."
NKP 514 EMD GP9
Reportedly NKP 514 was built in 1958 by EMD as a model GP9, builder's number 24505. It became N&W 2514 then NS 2514. In 1985 it went to the Steamtown Foundation in Scranton, PA.
---
Special Thanks
All the great folks who helped me out with information for these Web pages!