Strasburg Railroad (SRC)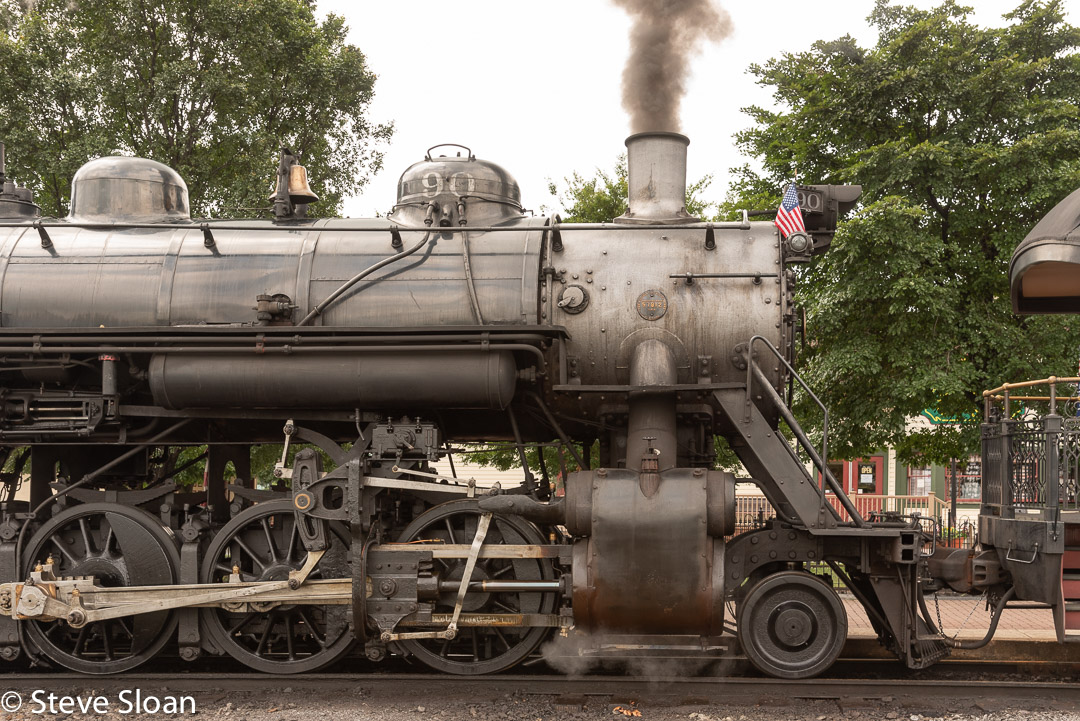 Strasburg 90 puts a train together in Strasburg, PA on Sunday, July 7, 2019.
Click on photo to enlarge
Strasburg Rail Road (SRC)
Photos
Click on the following links to see pictures related to The Strasburg Rail Road:
Locomotives
SRC 2, 10-ton Gasoline Plymouth
Strasburg Rail Road (SRC) 2 is a "Dinkey" 10-ton Gasoline Plymouth Fate-Root-Heath built in 1930 aquired by SRC in 1984. It was used during construction of Holtwood and Safe Harbor dams. Former Safe Harbor Water & Power Corp. E-126; Pennsylvania Water & Power Co. #2
SRC 3, 15 inch gauge, Cagney Bros. / Miniature Railway Company 4-4-0
Built in the early 1900s, these miniature steam trains (15 in (381 mm) gauge) reportedly were most likely originally used at Coney Island, NY. Built around 1920, this Cagney Bros. Co., Miniature Railway Company built, miniature steam train was originally used at an amusement park.
SRC 21 Mack/Brill Railbus
A 1921-built gasoline powered Mack Model AC railbus. The chassis was built by Mack, the truck people, and the body was built by Brill. It originally was constructed, serial number 6005, as number 20 for the Lewisburg, Milton & Watsonville Passenger Railway, a Pennsylvania trolley line. In 1928 it became PRR 4738 and in 1931 it was sold to the Artemus-Jellico, a Kentucky shortine. In 1941 it was aquired by the the Buffalo Creek & Gauley (BC&G) as their car "A". It later went to the SRC then the Railroad Museum of Pennsylvania.
SRC 90, Baldwin 2-10-0 (decapod)
According to good sources, SRC 90 was built in 1924 by Baldwin as a 2-10-0, builders number 57812, Great Western Railway Company 90.
The Strasburg Rail Road purchased No. 90 in 1967.
SRC 1235, ATSF/EMD SSB1200
According to good sources SRC 1235 was built in 1953 by EMD as

ATSF 2435

a model SW9, builders number 18960. It was rebuilt by ATSF and became ATSF 1235, an SSB1200.
SRC 8618, EMD SW8
According to good sources SRC 8618 was built in 1953 by EMD as a model SW8, NYC 9618 builder's number 16193. It was renumbered to NYC 8618, becoming PC 8618 and CR 8618 before being sold.
Roadnames and numbers for this locomotive include: LBC 1500, LTEX 8618, NYC/PC/CR 8618, SRC 8618.
Rolling Stock
SRC 9140 MW, Baggage ACF
According to good sources SRC 9140 MW was built in 1946 by ACF as a baggage car for New York Central, becoming Penn Central (numbers unknown) and finally Amtrak (service unknown) until used for storage at Lancaster station until 2006 when it went to SRC.
Related Links
Click on the following links to see other posts related to this:
---
NOTE: If anything is my "life's work" it's my train photos. — If you scan an analog photo of mine, or if you share a digital photo I took that does not have my photo credit, add something like "Photo by Steve Sloan" directly onto the image. It's not enough to say "Photo by Steve Sloan" in the text caption. People download photos off the Internet/Social Media platform and whatever is in the text does not stick to the photo. Then, they get reshared and that data is lost. I deserve credit for my work.
You may not use my photos for profit and/or as part of, or to sell, a product or service without my consent.
---
Special Thanks
All the great folks who helped me out with information for these Web pages!