2012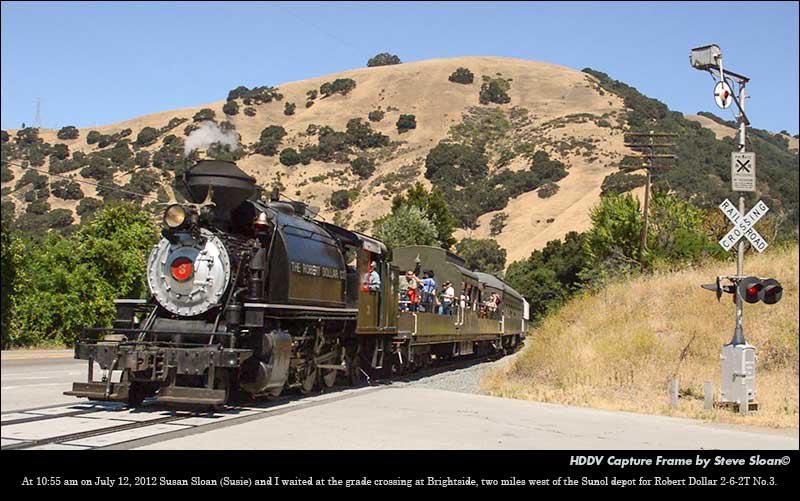 Click on photo to enlarge
July 7, 2012
< Previous | 2012 | Next >
Various photos on a trip to test video gear shooting steam.
Sunol, CA
Brightside Yard
10:55 a.m.
Robert Dollar Lumber Company No. 3, ALCo 2-6-2T

The No. 3 was built for the Walter A. Woodard Lumber Company of Cottage Grove, Oregon, in November 1927 by American Locomotive Company (ALCO) of Schenectady, New York. [More Info]

At 10:55 am on July 7, 2012 Susan Sloan (Susie) and I waited at the grade crossing at Brightside, two miles west of the Sunol depot on the Niles Canyon Railway for Robert Dollar 2-6-2T No.3.
Nikon D3200 HD Digital Video Capture Frame: 2012070701_001v.1
11:30 a.m.
WP 918-D EMD F7A, A.K.A. WP 918

Western Pacific 918-D is an EMD F7, owned by the Pacific Locomotive Association, serial number 8973, built on January 27, 1950.
Click on the links below to see photos of WP 918-D:
Special Thanks
All the great folks who helped me out with information for these Web pages!