July 25, 2012
Related trip report for this day.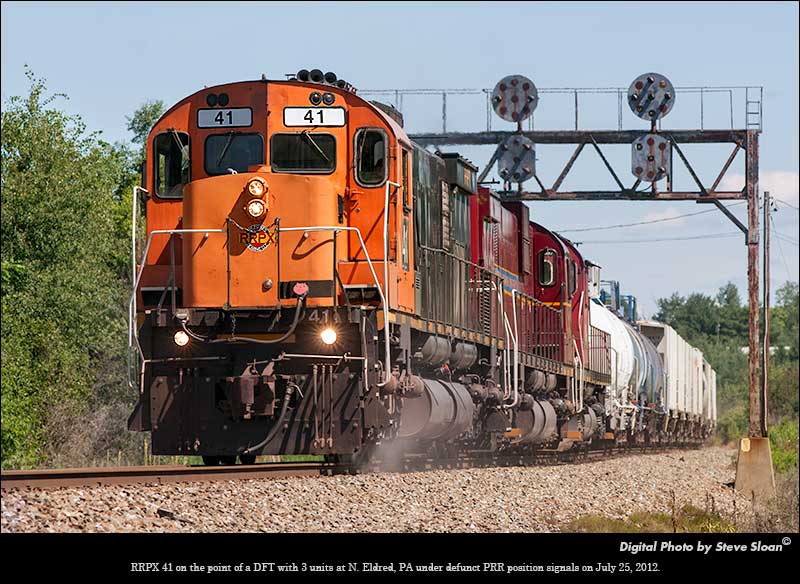 < Previous | 2012 | Next >
On this day I followed the Driftwood Turn, job OL3, from Olean, NY to Driftwood, PA and Back.
Route: NY 417 to NY 305 to PA 446
Related sets: Digital 2012072602ph
Wednesday:
Olean, NY
9:15 a.m.

In the power pool RRPX 41, WNYP 630, 431. East end DFT. Dig & Video. Route to drive NY 417 to NY 305 to PA 446 to Bullis Mills.
Eldred, PA
11:25 a.m.

DFT with 3 units at N. Elderd (Bullis Mills), PA.

11:45 a.m.

Stopped at S. Eldred to get fueled and dropped off rear unit.
Port Allegany, PA
1:53 p.m.

Train switched, I ate lunch. Met Craig Skinner.
Keating Summit, PA
2:20 p.m.

RRPX 41 leading 630 on the DFT. Film and Video
Emporium, PA
3:00 p.m.

11 cars
Driftwood, PA
3:37 p.m.

PRR position light signals. Did not shoot train here because not sure that train would come whole way from North Driftwood into Driftwood.
Emporium, PA (NB)
5:23 p.m.

WNYP 630 and RRPX 41 Shot stills and video as train went around curve.
Port Alegany, PA
6:25 p.m.

Got coming through non functional position signals with 630 in the lead.
Port Alegany, PA: Highway 6 Bridge
7:30 p.m.

630 and 41 going under bridge as they switched the businesses there.
Special Thanks
All the great folks who helped me out with information for these Web pages!