2013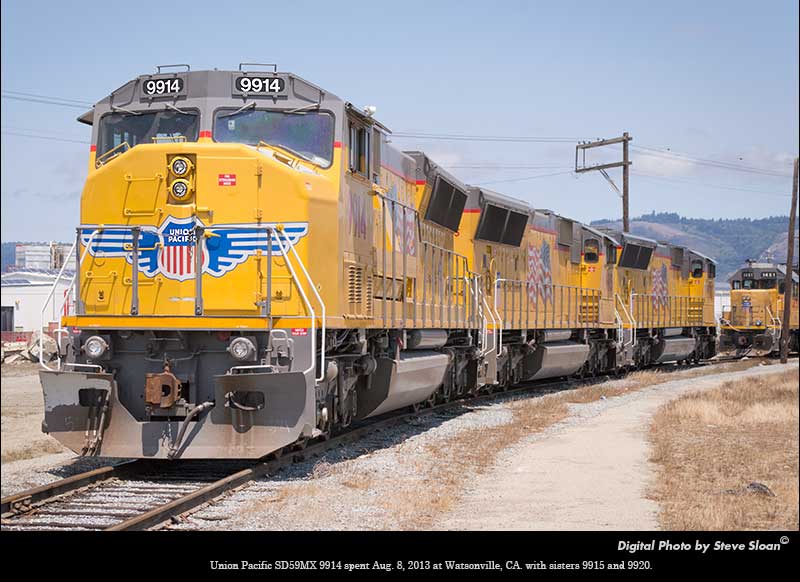 Click on photo to enlarge
Thursday Aug. 8, 2013
< Previous | 2013 | Next >
These photos were taken on the way to a three day getaway on the coast.
Watsonville, CA
Watsonville Jct.
Power Pool
UP 9914 EMD SD59MX

Union Pacific SD59MX Built As: UP 6295 (SD60M), Serial Number: 906100-27, Order No: 906100, Frame Number: 906100-27, Built: 1/1992, Notes:SD59M-2 ex UP 2450, 6295. [Source]

9914 spent Aug. 8, 2013 at Watsonville, CA. According to Matt Vurek, "FYI, the SD59MXs are used on the nocturnal LRQ-53 Aromas - San Jose "Rock Job" (on duty 7pm weeknights). Unlike the 4 axle power around WJct, they are not used on any daytime locals."

Photo of 9914 with sisters 9915 and 9920.
Nikon D3200 Digital Image: 2013081101ph.6
UP 1451 EMD GP40-2, former SP 7676
UP 1451 in Watsonville

Union Pacific GP40-2 1451, former Southern Pacific 7676, spent Aug. 8, 2013 at Watsonville, CA with sister 1346 (former D&RGW 3123.).
Special Thanks
All the great folks who helped me out with information for these Web pages!

This work is licensed under a Creative Commons Attribution-NonCommercial-NoDerivatives 4.0 International License.