Union Pacific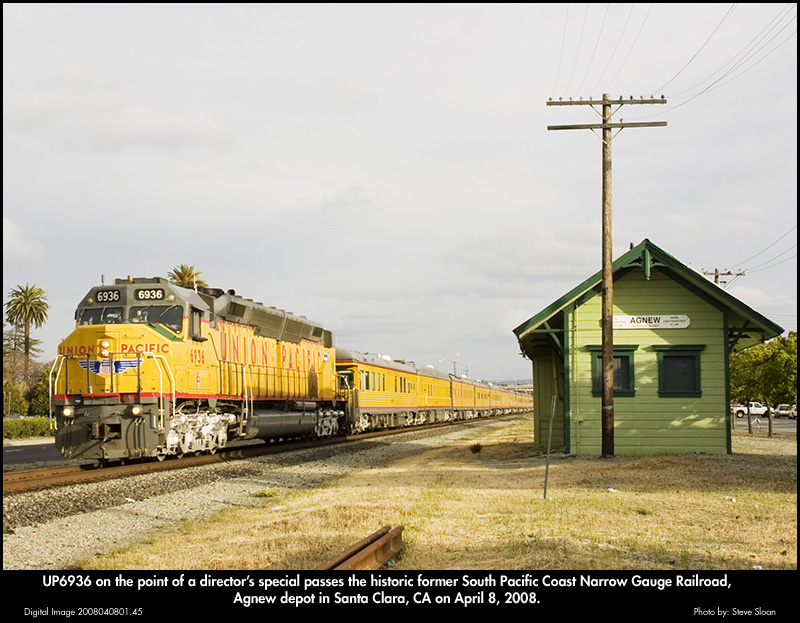 I hope you enjoy these photos as much as I enjoyed taking them. The Union Pacific has come to dominate California Railroading in the 21st century
Union Pacific and its subsidiaries
Click on the following links to see pictures related to the UP:
Aquisitions & Subsidiaries
---
UP Diesel Locomotives
"Y" Locomotives | 1-999 | 1000-1999 | 2000-2499 | 2500-2999 | 3000-3999 | 4000-4999 | 5000-5399 | 5400-5499 | 5500-5699 | 5700-5999 | 6000-6499 | 6500-6999 | 7000-7499 | 7500-7599 | 8000-8199 | 8200-8999 | 9000-9899 | 9900-9999
Steam Locomotives
Structures
These are Union Pacific Structures, including previous roads
Rolling Stock
These are Union Pacific Rolling Stock
Related Links
Click on the following links to see other posts related to this story:
Information Sources used on this website.
My collection of many Union Pacific photos in Flickr.
Up to date infromation on the UP.
An awesome roster resource.
---
NOTE: If anything is my "life's work" it's my train photos. — If you scan an analog photo of mine, or if you share a digital photo I took that does not have my photo credit, add something like "Photo by Steve Sloan" directly onto the image. It's not enough to say "Photo by Steve Sloan" in the text caption. People download photos off the Internet/Social Media platform and whatever is in the text does not stick to the photo. Then, they get reshared and that data is lost. I deserve credit for my work.
You may not use my photos for profit and/or as part of, or to sell, a product or service without my consent.
---
Special Thanks
All the great folks who helped me out with information for these Web pages!
This work is licensed under a
Creative Commons Attribution-NonCommercial-NoDerivatives 4.0 International License
.