Burlington Northern Santa Fe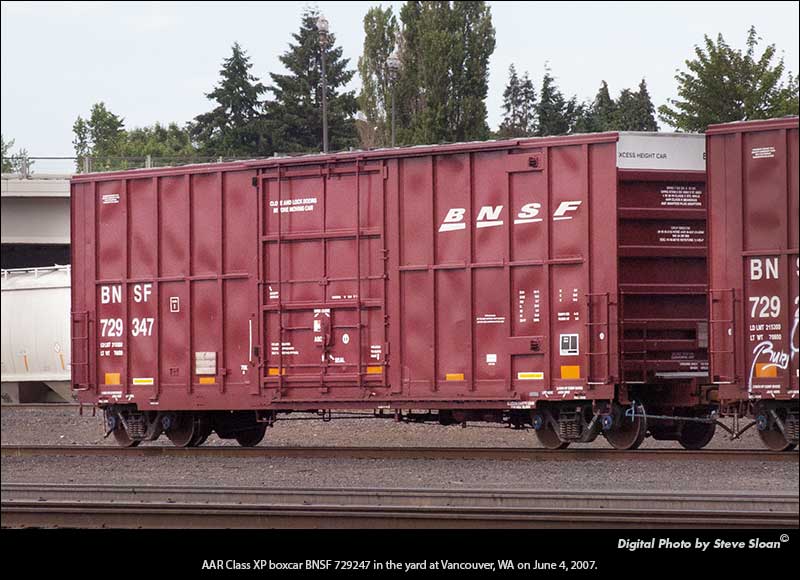 Click on image to enlarge
I hope you enjoy these photos as much as I enjoyed taking them. The BNSF has come to dominate Northwest Railroading in the 21st century.
BNSF Rolling Stock
[ BNSF ]
BNSF 487836, CB&Q Heritage Hopper
BNSF 487836 is a CB&Q Heritage Hopper
BNSF 487836 on an EB no-grainer at Ash Hill

At 3:35 p.m. on Thursday, April 15, 2021, a BNSF Railway (BNSF) 7179 led eastbound 3+0 no-grainer is approaching Ash Hill, CA with BNSF 7179, 4469 and 7671 as power. This train had BNSF 487836, a CB&Q Heritage Hopper, on it.
BNSF 729247 Trinity 50' Hy-Cube Box Car
Reportedly (sources) an AAR Class XP boxcar built by Trinity Rail. Chris Onnink on Facebook said, "Typically it's (used for) paper, but I've also seen them in service hauling asphalt shingles." Ken Yohe said on Facebook, "I also learned today that those cars are used for hauling boxed appliances."
Boxcar 729247 in Vacouver, WA

AAR Class XP shortie hycube boxcar BNSF 729247 in the yard at Vancouver, WA on June 4, 2007.

Photo of BNSF Boxcar 729247
Nikon D2Hs Digital Image: 2007060401ph.21
---
Related Links
Click on the following links to see other posts related to this story:
My collection of BNSF photos in Flickr.
---
Related Resources
---
NOTE: If anything is my "life's work" it's my train photos. — If you scan an analog photo of mine, or if you share a digital photo I took that does not have my photo credit, add something like "Photo by Steve Sloan" directly onto the image. It's not enough to say "Photo by Steve Sloan" in the text caption. People download photos off the Internet/Social Media platform and whatever is in the text does not stick to the photo. Then, they get reshared and that data is lost. I deserve credit for my work.
You may not use my photos for profit and/or as part of, or to sell, a product or service without my consent.
---
Special Thanks
All the great folks who helped me out with information for these Web pages!