Metro-North Commuter Railroad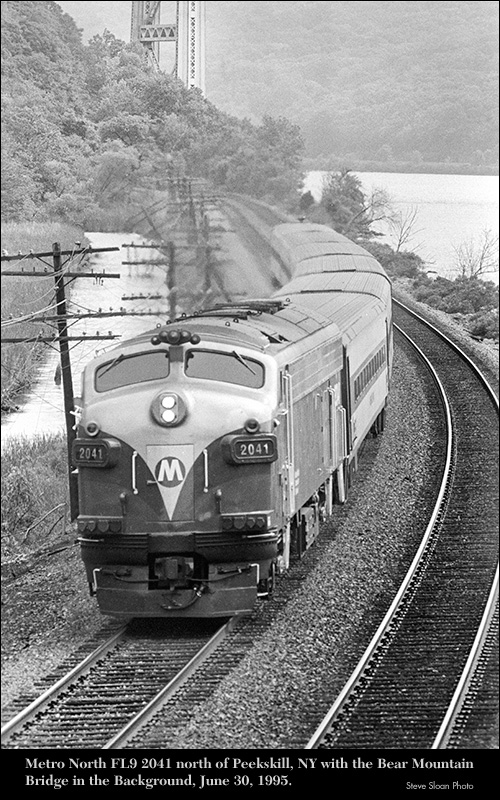 I hope you enjoy these photos as much as I enjoyed taking them.
Metro-North
According to Wikipedia:
The Metro-North Commuter Railroad (reporting mark MNCR), is a suburban commuter rail service that is run and managed by the Metropolitan Transportation Authority (MTA), an authority of New York State. It is the second busiest commuter railroad in the United States as measured in terms of overall monthly ridership, a position it has held since the fourth quarter of 2001. Metro–North runs service between New York City to its northern suburbs in New York and Connecticut.
Click on the following links to see pictures related to Metro-North:
MNCR 2041 EMD FL9
Rebuilt EMD FL9AC Built As: FL9 NH 2023 Serial Number: 21969 Order No: 3193 Frame Number: 3193-A22 Built: 10/1957. MNCR 2041 (FL9AC) PC 5023 (FL9) NH 2023 (FL9) CR 5023 (FL9)
Metro-North FL9 2041 at Manitou

Metro-North FL9 2041 at Manitou, NY, north of Peekskill, NY with the Bear Mountain Bridge in the Background, June 30, 1995. TO member "swcrossbucks" said, "The first two pictures are northbound trains @ MP 45.5 or so, that have just exited the Fort Montgomery Tunnel and are approaching Manitou Rd. Manitou is still an active passenger station, low level platforms. The southbound Amtrak has just passed Manitou Rd which can be seen in the distance. This shot looks like it was taken a the same location just facing north instead of south. As a note there is now an interlocking that has been installed between the rear of the Amtrak train and the rd crossing. Hope this helps."
Related Links
Click on the following links to see other posts related to this story:
My collection of many train photos in Flickr
Special Thanks!
To all the great folks who have helped me out with information for these Web pages!