Mount Hood Railroad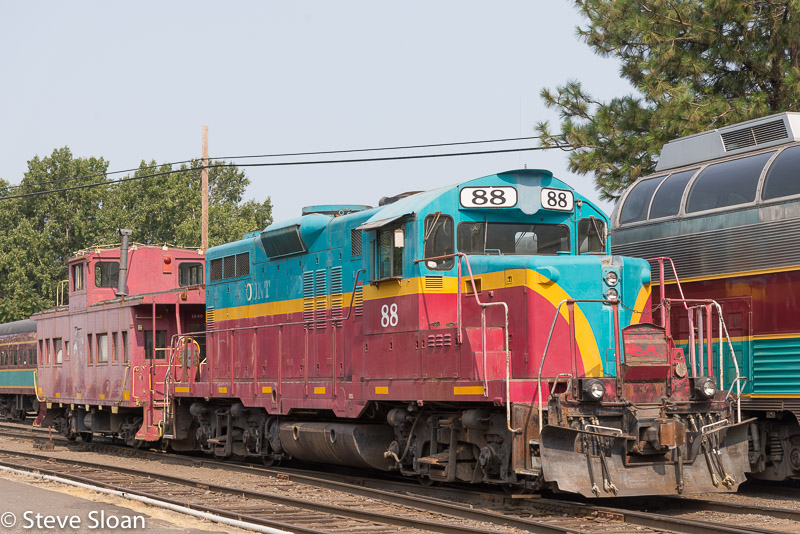 Mount Hood 88 sitting in the yard in Hood River, Oregon on a smoky August 22, 2017.
The Mount Hood Railroad (MH)
According to Wikipedia, The Mount Hood Railroad (reporting mark MH) is a heritage and shortline freight railroad located in Hood River, Oregon, 60 miles east of Portland, Oregon, United States.
MH 88
According to good sources, including Strapac's fantastic SP Compendium series, MH 88 was built in September 1959 by EMD as a model GP9, builders number 5608-18, SP 5889, SP Class DF-616. In 1965 it was renumbered to SP 3725 SP Class EF418-9.
This locomotive was upgraded in January 1978 emerging as SP 3885 SP Class EF418R-5.
This locomotive was retired in December 1988 and sold to Chrome Crankshaft becoming MH 88 soon thereafter.
MH 88 in August 2017

MH 88 in Hood River OR
Related Links
Click on the following links to see other posts related to this:
Flickr Sets

Related Photo Sets on Flickr
Special Thanks
All the great folks who helped me out with information for these Web pages!

This work is licensed under a Creative Commons Attribution-NonCommercial-NoDerivatives 4.0 International License.