Southern Pacific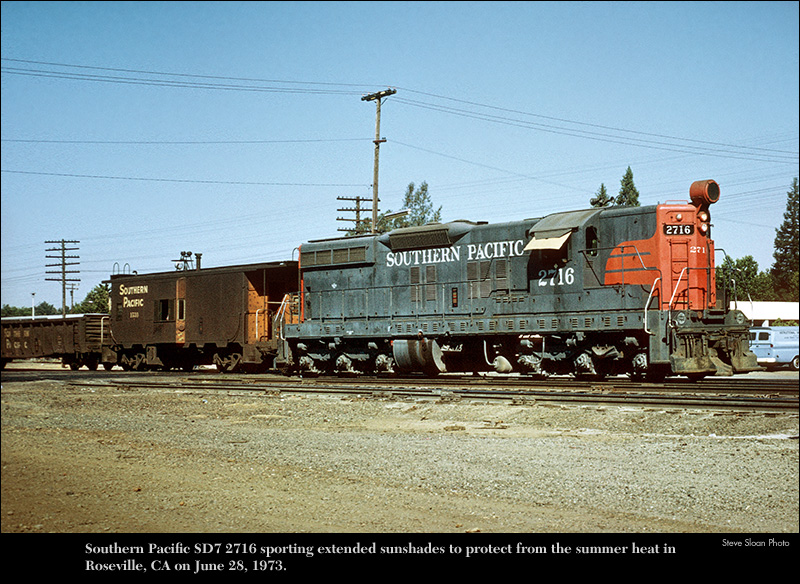 Click on photo to enlarge
Please scroll down to see links to more photos of trains in this series.
I hope you enjoy these photos as much as I enjoyed taking them. The Southern Pacific railroad will always be my favorite railroad!
SP and its subsidiaries
Click on the following links to see pictures related to the SP:
SP 2691 EMD MP15DC, SP Class ES415-7
Reportedly (sources) Southern Pacific 2691 was built in December 1974. In December 1994 it was retired and sold Progress Rail becoming Helm Financial Corp HLCX 2691. January 1997 it was leased to UP and became UP 1290. In March 2002 it was returned to Helm and became HLCX 503. Became Caltrain 503 in August 2002.
SP 2692 EMD MP15DC, SP Class ES415-7
Reportedly (sources) SP 2692 was built by EMD as Construction number 73625-03 in Dec. 1974. It was retired in July 1994. In March 1995 it was sold to Omni-Trax. In 1996 it was used by Acme Steel Corp. In Jan. 1997 it became UP 1289. In August 2002 it became Caltrain 504.
SP 2696 EMD MP15DC, SP Class ES415-7
Reportedly (sources) SP 2696 was built by EMD in Dec. 1974 as construction number 73625-07. It became UP 1295 and in Dec. 2000 became UPY 1295. As of 2011 it was still in service in Denver.
SP 2708 EMD SD7, SP Class ES615-1
Reportedly (sources) SP SD7 2708 was ordered in Apr. 1952 in EMD order 5157, frame 5157-09 ,construcion number 17152 and built with low 65:12 gears as a road frieght locomotive, SP Class DF-114 SP 5287. In the early 60s this class was given more normal 62:15 gearing and in the 1965 renumbering the class was recategorized as switchers, class ES615-1. In January 1974 it was renumbered as SP 1408 to clear the 2700 number blockfor MP15AC switchers. In May 1980 1408 was upgraded to SD7R SP 1536, Class ES615R-1. In September 1991 the 1536 burned at Pomona and was retired.
SP 2716 EMD SD7, SP Class ES615-3
Reportedly (sources) SP 2716 EMD SD7, SP Class ES615-3, was built as SP 5309, SP Class DF-117, in August 1953. It was EMD order number 5188-01, construction number 18381, the first of it's class, and was built with 62:15 gearing, steam generators and signal lights at each end. Renumbered to 2716 in the 1965 renumbering, it was renumbered again to 1416 in October 1973. SP 1416 was upgraded in Nov. 1979 to SP Class ES615R-1 1511. SP 1511 was retired Nov. 1995 and sold in Dec. 1995.
Special Thanks!
To all the great folks who helped me out with information for these Web pages!