Southern Pacific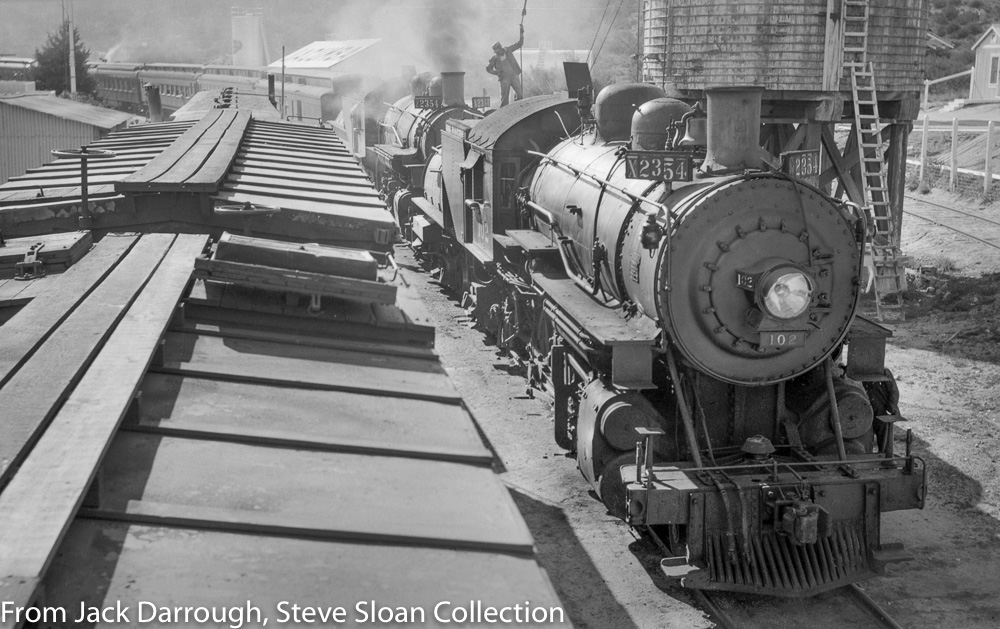 Click on photo to enlarge
I hope you enjoy these photos as much as I have. The Southern Pacific railroad will always be my favorite railroad!
SP Subsidiaries Steam
Click on the following links to see pictures related to the SP in the number series indicated:
Corvallis and Eastern Railroad 4-4-0 number 4
According to good sources, Built by Cooke in 1886, builder's number 1722. Renumbered SP 1302 in 1916. Scrapped 1918.
C&E 4 Location Unknown

Date and Location not known.
From the Darrough Collection. Photos from this collection have been shared with permission from Jack Darrough, obtained before he died.
SD&AE 102, ALCo, SP Class C-31 2-8-0
According to good sources, SD&AE 102, C-31 Consolidation, Serial No. 54973. Built: 1914 Schenectady Locomotive Works (ALCo). These were the last locomotives purchased new by the railroad. According to P. Allen Copeland and. Joseph A. Strapac, "Nos. 101 and 102 were generally similar to S.P. contemporary locomotives of the type, being delivered with Vanderbuilt tenders, but equipped with modern Walschaerts valve gear and piston valves. The class assigned by the S.P. was C-31." Scrapped: 1953.
SD&AE 102 leading extra 2354, Jacumba, CA

SD&AE 102 at Jacumba, CA. According to Evan Werkema, "According to information compiled by Scott Inman, this would be the Railroad Boosters' "Carriso Gorge" excursion of October 15,1939."

Mike on Trainorders said:


Train is east bound towards the Carriso Gorge, a little more than 3 1/2 miles ahead!
There is a lot going on in the photo, most of which is no longer around, the water tower the shed to the left of the reefer and boxcar on the siding to the left and the storage tank in the background. Just over the top of the steel shed, you can see part of the Jacumba Depot which is still there. The train order pole in front of the depot is gone. That was a Standard Oil Distributor for this area in the background over the train.

Photographer most likely Bill Darrough, from the Darrough Collection. Since negatives were extensively traded it's possible Bill was not the photographer. Photos from this collection have been shared with permission from Jack Darrough, obtained before he died.
Related Links
Special Thanks!
To all the great folks who helped me out with information for these Web pages!

This work is licensed under a Creative Commons Attribution-NonCommercial-NoDerivatives 4.0 International License.