Last UP Santa Cruz Local
< Previous | 2009 | Next >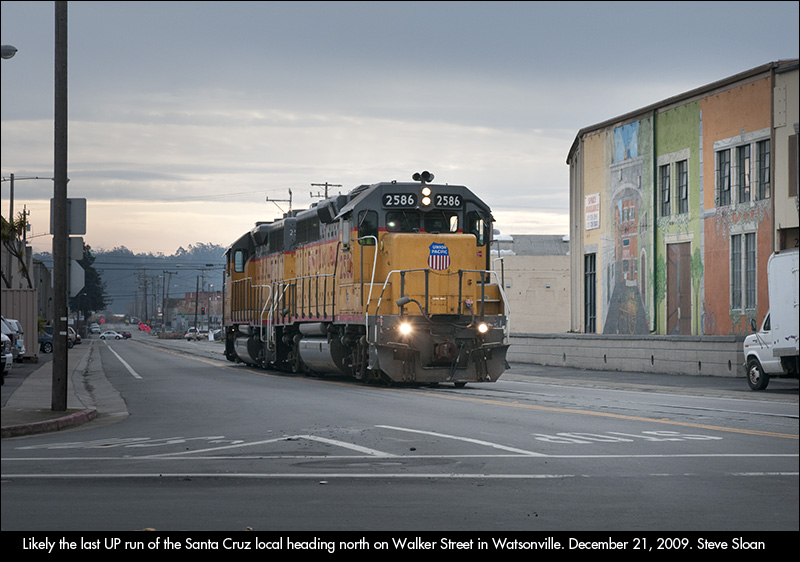 Written December 29, 2009: On Monday, December 28, 2009 the Union Pacific (UP) ran what is likely the last UP Santa Cruz Local. I knew the Santa Cruz Local normally ran on Mondays. I was off work so I went and chased the train. There was not a lot of advance publicity about the last trip. Still, I was surprised to see I was the only person documenting the last train leaving Watsonville up the Santa Cruz branch.
In January 2010 the Sierra Railroad is going to start leasing and operating the line. I posted information about the train running to the Coast and Heads Up lists, I don't know if that is why several other railfans showed up later in the day, especially for the return trip. Maybe they were planning to come anyway.
Steam powered narrow gauge trains once pounded the Santa Cruz mountains over the hill between San Jose and Santa Cruz. The South Pacific Coast Railroad was probably the most successful narrow gauge railroad in California history. Built by Comstock Lode millionaire James Fair (known variously as either "Slippery Jim" or "Sunny Jim") and his front man, Alfred "Hog" Davis, it ran from Alameda to Santa Cruz, a distance of 80 miles. This old narrow-gauge line, the South Pacific Coast, was bought by the Southern Pacific (SP) and converted to standard-gauge. SP ran trains with names like the Suntan Special to Santa Cruz. The line over the Santa Cruz mountains was abandoned in 1940 as cars replaced steam powered passenger trains.
The passenger business gone, freight continued to roll into and out of Santa Cruz. The Southern Pacific operated trains into Santa Cruz on another rail line north from Watsonville that extended through Santa Cruz and continued north to the Cemex cement plant in Davenport. The Southern Pacific was taken over by the UP in 1996 following years of financial problems.
UP continued freight trains to Santa Cruz. The Cemex plant in Davenport was by far the largest business on the line getting it's own five day a week train of cement hoppers. The closure of that plant in March 2009 left the Union Pacific with only a handful of carloads a week coming off the long line extending from Watsonville to Davenport. There clearly was not enough business for this line to survive profitably even with service cut down to one train a week. Frankly, it is hard to see how Sierra can make a go of it. So, going into 2010 this little railroad line will be a priority for me.
December 28, 2009 was a rainy overcast day. That seemed fitting really, the run marked the end of class one railroads going to Santa Cruz on a sad rainy day. No loaded revenue cars came back on the train; only empties. No money was made on this trip. Yup, that's the problem in a nutshell.
Photos
Click on the following links to see pictures related to this story:
Related Links
Click on the following links to see other posts related to this story:
You will have to a member of Train Orders to see the photos in full resolution. But, you can read the comments then see the photos here at no charge.
This is a related set of photos on Flickr.
This is a post on our family blog on this topic.

---

Special Thanks

All the great folks who helped me out with information for these Web pages!


This work is licensed under a Creative Commons Attribution-NonCommercial-NoDerivatives 4.0 International License.