2021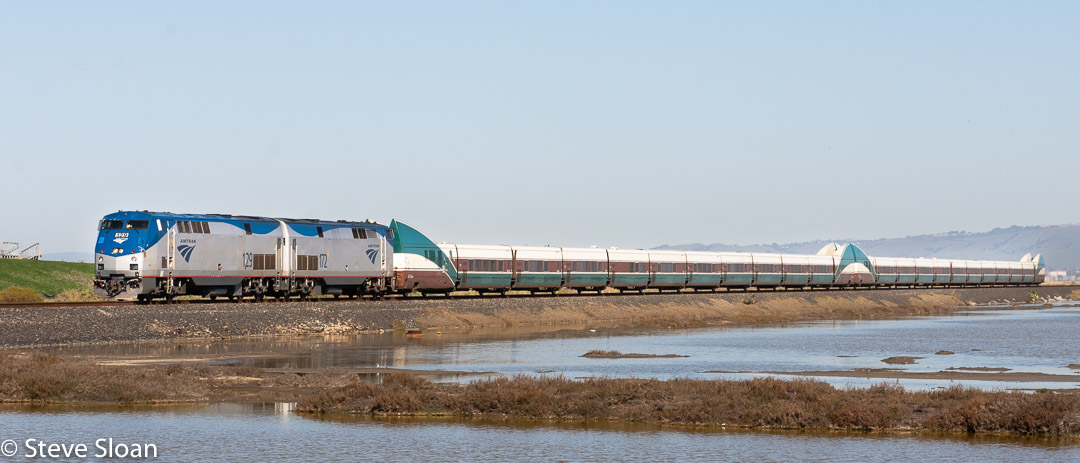 On Monday, March 1, 2021, a southbound train of talgo equipment is in Alviso, in north San José, CA. The talgo equipment is being pulled by Amtrak (AMTK) P42DCs 129 and 172. The talgo equipment is headed to a scrapyard.
Click on image above to enlarge
Railfanning 2021
< Previous Year | List of Years | Next Year >
This year both Susie and I are retired and living in San Jose. It started with the ongoing COVID pandemic and the attempted coup in Washington, DC. The Covid wave became more managable with vaccinations and we got out more. It ended with a new mutant Covid variant and a harder lockdown again.
Please click on links below to see photos is the given time ranges:
Jan 1- December 31
---
Related Links
---
NOTE: If anything is my "life's work" it's my train photos. — If you scan an analog photo of mine, or if you share a digital photo I took that does not have my photo credit, add something like "Photo by Steve Sloan" directly onto the image. It's not enough to say "Photo by Steve Sloan" in the text caption. People download photos off the Internet/Social Media platform and whatever is in the text does not stick to the photo. Then, they get reshared and that data is lost. I deserve credit for my work.
You may not use my photos for profit and/or as part of, or to sell, a product or service without my consent.
---
Special Thanks
All the great folks who helped me out with information for these Web pages!

This work is licensed under a Creative Commons Attribution-NonCommercial-NoDerivatives 4.0 International License.