2013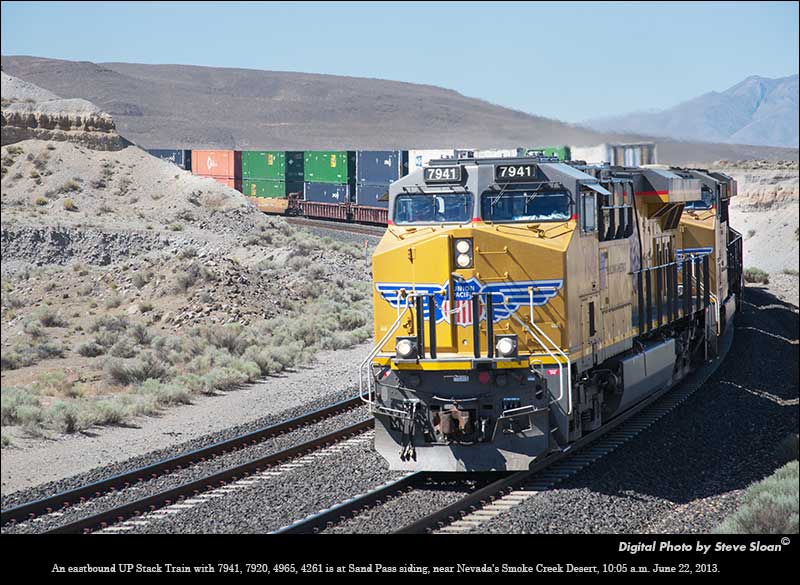 Click on photo to enlarge
Saturday June 22, 2013
< Previous | 2013 | Next >
This week Donner was closed all week and Overland Route frieght trains went mostly via the Feather River Canyon. I stayed with Ken Compton for a rew days when we went to Sand Pass. This was our first day on Sand Pass, Nevada. We took Ken's Xterra to Sand Pass.
West of Sand Pass
Nevada Desert
8:40 a.m.
UP 6705 DPU
Sand Pass
389 Crossing
9:30 a.m.
UP 7698 GE ES44AC
Sand Pass Siding
Lots of old coral here
10:05 a.m.
10:40 a.m.
UP 7360 GE ES44AC
West Sano
Lunch at West Sano
11:40 a.m.
UP 8047 GE C45ACCTE
1:00 p.m.
UP EB Manifest 5807, 4737, 3793 - Bad Light.
MP 399, between Sano and Sand Pass
4:06 p.m.
UP 6390 GE AC4400CW
5:00 p.m.
BNSF 4760 GE Dash 9-44CW
Sand Pass Siding
7:00 p.m.
UP 6834 GE AC4400CW
After The Trains
Special Thanks
All the great folks who helped me out with information for these Web pages!