2013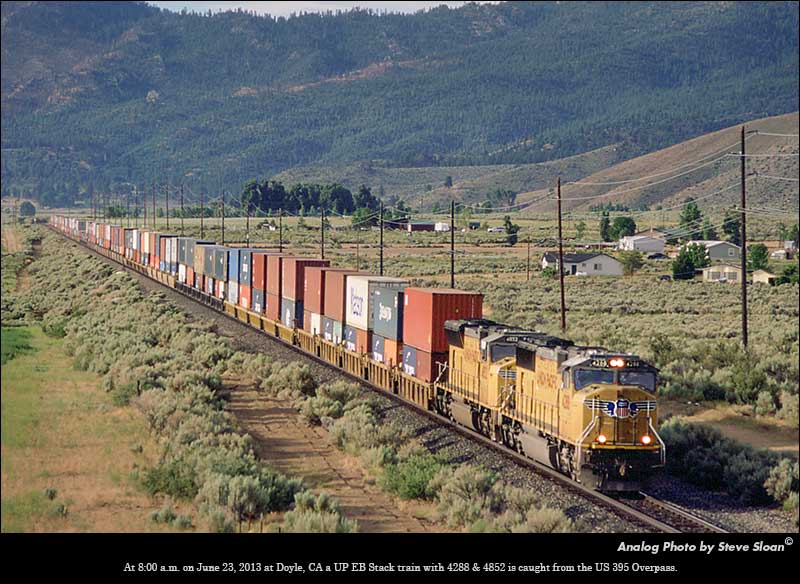 Click on photo to enlarge
Sunday June 23, 2013
< Previous | 2013 | Next >
This was our second day on Sand Pass, Nevada. We got out there earlier after figuring a better route. We saw a lot of trains in the morning. But, the detours ended in the afternoon and we saw few trains later in the day.
UP RR Frequency 27-27 160.515
Doyle, CA
US 395 Overpass
8:00 a.m.
UP 4288 EMD SD70M
Sand Pass, NV
East of Sand Pass, west of Sano, MP 399.3
8:35 a.m.
UP 6919 GE C44/60ACW
8:50 a.m.
UP 6070 GE AC4400CW
UP EB Baretable 6070, CSX 5258 - F100 EG film, D300s
10:13 a.m.
UP 8347 EMD SD70Ace
10:27 a.m.
UP 8698 EMD SD70ACe
UP EB 1:1 Double Stack 8698 | DPU 8606 (forward facing)
10:54 a.m.
UP 7844 GE ES44AC
Sand Pass Siding
1:18 p.m.
UP 5904 GE AC4400CWCTE
Horseshoe Curve east of Sand Pass Siding
1:54 p.m.
BNSF 5220 GE AC4400CW
4:05 p.m.
UP 6899 GE C44/60AC
4:17 p.m.
UP 5297 GE ES44AC
Special Thanks
All the great folks who helped me out with information for these Web pages!