2015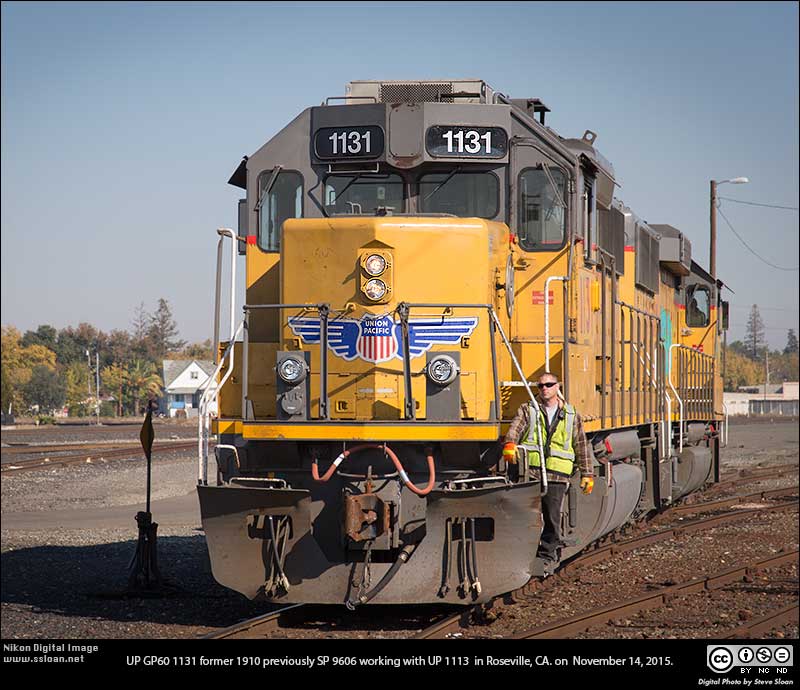 Click on photo to enlarge
Saturday Nov. 14, 2015
< Previous | 2015 | Next >
When I was at a meeting in Sacramento I went to Roseville, met Ken Compton and visited Railfair where I picked up my Krauss-Maffei. It's been a long time since the last time I saw a Krauss-Maffei in Roseville.
Roseville, CA
UP's former SP yard
UP 1131, EMD/GMLG GP60
UP 1131

Union Pacific baby wings GP60 1131 formerly 1910 previously SP 9606 working with UP 1113 in Roseville, CA. on Saturday November 14, 2015.
---
Related Media Assets
Digital Images Folder - 2015111701ph
---
Notes from Day
None
---
Related Links
---
NOTE: If anything is my "life's work" it's my train photos. — If you scan an analog photo of mine, or if you share a digital photo I took that does not have my photo credit, add something like "Photo by Steve Sloan" directly onto the image. It's not enough to say "Photo by Steve Sloan" in the text caption. People download photos off the Internet/Social Media platform and whatever is in the text does not stick to the photo. Then, they get reshared and that data is lost. I deserve credit for my work.
You may not use my photos for profit and/or as part of, or to sell, a product or service without my consent.
---
Special Thanks
All the great folks who helped me out with information for these Web pages!


This work is licensed under a Creative Commons Attribution-NonCommercial-NoDerivatives 4.0 International License.