Western America Railroad Museum (WARM)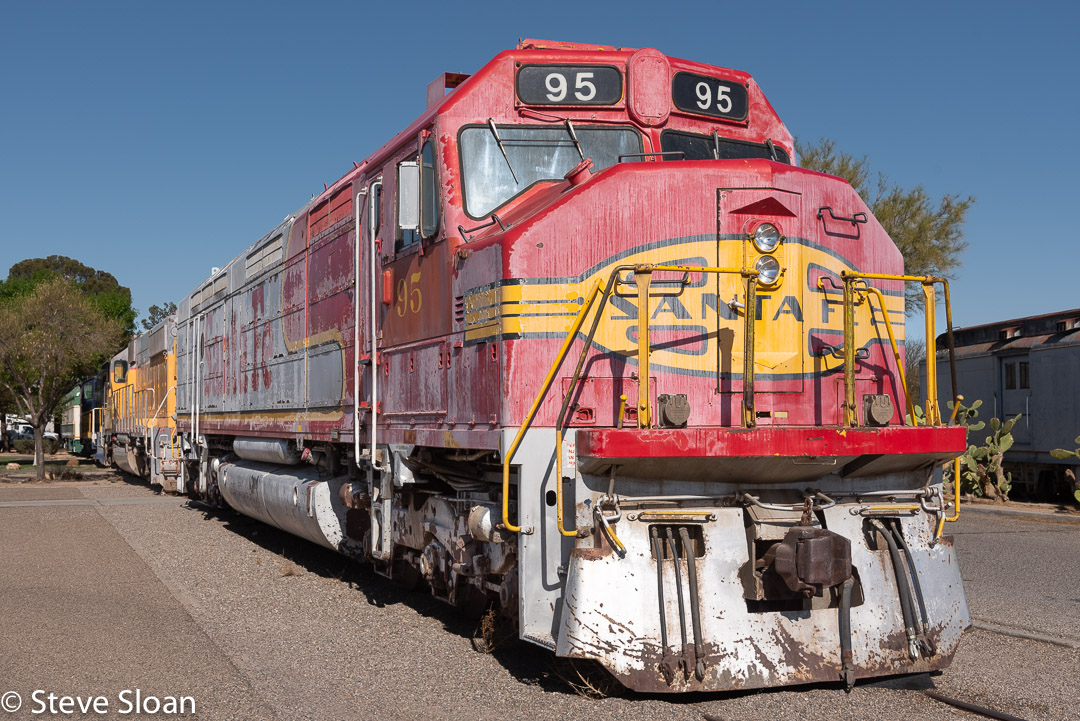 On Friday, April 16, 2021, at the Western America Railroad Museum (WARM) Atchison Topeka and Santa Fe (ATSF) Warbonnet FP45 95 is waiting in the sun.
Click on photo to enlarge
I hope you enjoy these photos as much as I enjoyed taking them. The BNSF has come to dominate Northwest Railroading in the 21st century.
The Western America Railroad Museum is a railroad museum located in Barstow, California. The museum collects, preserves and shares the history of railroading in the Pacific Southwest. It is located on the east side of the Harvey House Railroad Depot and is operated by a non-profit organization. It houses displays inside the depot and has indoor displays of railroad artifacts, artwork, timetables, uniforms, tools and various other types of railroad items. There are also outdoor displays of rolling stock, locomotives and general railroad operating equipment. The museum also houses Atchison, Topeka and Santa Fe Railway ATSF 1460, also known as the "Beep", and Union Pacific EMD SD40-2 UP 9950.
Click on the following links to see pictures related to the GN:
ATSF 95, EMD FP45
ATSF 95 is an EMD FP45. Reportedly: ATSF 95 was built by EMD in 1967 builder number 33194. Other reporting marks and numbers numbers reportedly assigned to this locomotive reportedly include: ATSF 105, ATSF 5945 and ATSF 5995.
GN 6307, EMD SD40
Great Northern (GN) 6307 is sitting at the Western Area Railroad Museum at the Harvey House. Reportedly: GN 6307 was built in 1966 by EMD as SD40 ATSF 1707 serial number 32043. It became ATSF 5007, then BNSF 6307 after the merger and finally GN 6307.
UP 9950, EMD SD40-2
Reportedly: UP 9950 was built in 1980 by EMD as SD40-2 MP 3320 serial number 786269-9. It became UP 4320, then UP 9950 after the merger.
ARZC 58, Business Car
ATSF 1460, Model SWBLW the "Beep"
ATSF 1460 is an SWBLW. Reportedly: ATSF 1460 was built in 1943 by BLW as VO-1000 ATSF 2220 serial number 67729. It was rebuilt in 1970 with a GP7 style hood, and became "The Beep" ATSF 2450, then in 1974 renumbered ATSF 1160, becoming ATSF 1460 in 1977, and finally BNSF 1460. In 2009 2009, the unit was donated to the Western America Railroad Museum in Barstow, CA, where it remains on static display.
---
Related Links
Click on the following links to see other posts related to this story:
---
Related Resources
---
Special Thanks
All the great folks who helped me out with information for these Web pages!