1973 in Nampa Idaho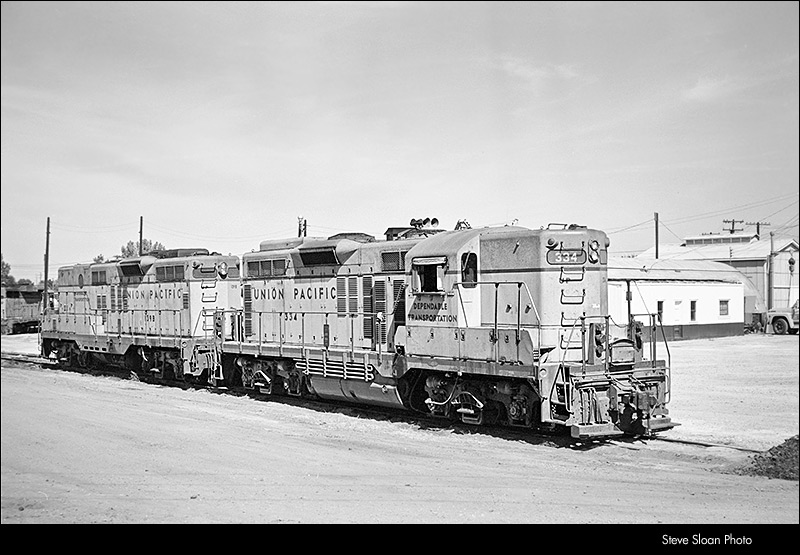 Sunday, September 9, 1973
< Previous | 1973 | Next >
In 1973 I was too young to drive too far. But, my parents went to visit relatives in Boise, Idaho. So, on Sunday, September 9, 1973 I made a side trip to Nampa with my cousin. I was shooting Sears slide film my dad gave me which faded to purple pudding within a few years, and tinkering with a black and white film called H&W Control. This stuff was grainless when developed in H&W developer. It was amazing stuff and that's what these were shot on. Besides having a slow ASA, H&W Control was a film and developer combination, it was a very good film for trains.
Nampa, ID
Nampa
Power Pool
UP 334 EMD GP9, Unofficial Designation Omaha GP20
UP 334 EMD/UP Omaha GP20

Union Pacific (UP) GP9 334 was given an EMD turbocharger, and upgraded to 2000 horsepower, in Aug 1964 at the railroad's Omaha Shops, giving rise to the "Omaha GP20" name. Omaha GP20 334 and GP9B 139B are in Nampa on Sunday, September 9, 1973 .

Photo, 35mm B&W image, Kowa SET, 50mm, 35mm H&W Control:
2009110701ph.4
UP 2801 GE U28C
UP 2801 in Nampa

Union Pacific (UP) U28C 2801 in Nampa, Idaho on on Sunday, September 9, 1973 .
Special Thanks
All the great folks who helped me out with information for these Web pages!
It is appreciated if you do not repost or forward any photos I am posting to any other list, or online forum, or social network (like Facebook, Google+ or Flickr) without permission of the contributor or the photographer.
All photos are copyright the photographer unless otherwise stated. I will always try as hard as I can to get the permission of the photographer when (and if) I post work by others. When I do I will try to honor their photographic style. Please do not produce or distribute altered versions of this work.
This work is licensed under a
Creative Commons Attribution-NonCommercial-NoDerivatives 4.0 International License
.