1974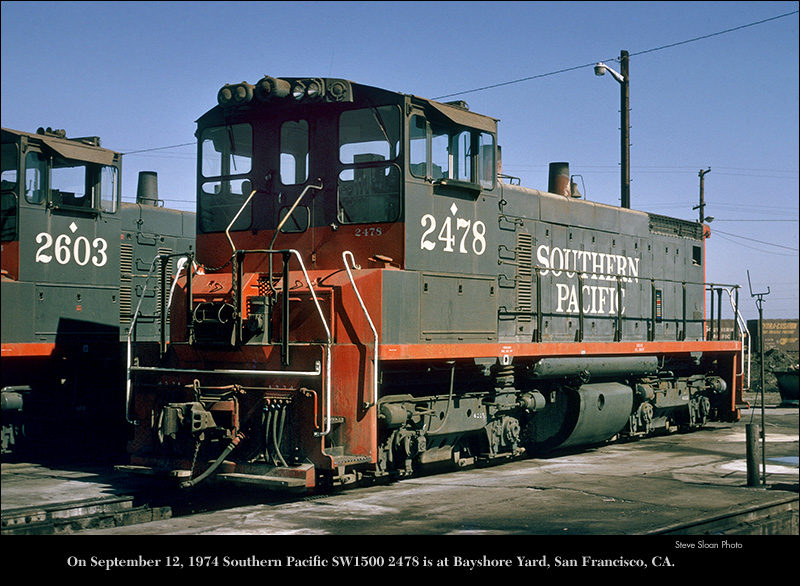 Click on photo to enlarge
Thursday, September 12, 1974
< Previous | 1974 | Next >
Various photos taken, or thought to be taken, on this date in San Francisco.
San Francisco Area
San Francisco, CA
Bayshore Yard
SP 2478 EMD SW1500, SP Class ES415-1
2478 at Bayshore Yard, San Francisco, CA.

On September 12, 1974 Southern Pacific SW1500 2478 is at Bayshore Yard, San Francisco, CA.

Photo of SP 2478
Analog Image, Kodachrome Slide 5.452, Scan 2010101501.26
Special Thanks
All the great folks who helped me out with information for these Web pages!
It is appreciated if you do not repost or forward any photos I am posting to any other list, or online forum, or social network (like Facebook, Google+ or Flickr) without permission of the contributor or the photographer.
All photos are copyright the photographer unless otherwise stated. I will always try as hard as I can to get the permission of the photographer when (and if) I post work by others. When I do I will try to honor their photographic style. Please do not produce or distribute altered versions of this work.
This work is licensed under a
Creative Commons Attribution-NonCommercial-NoDerivatives 4.0 International License
.