1990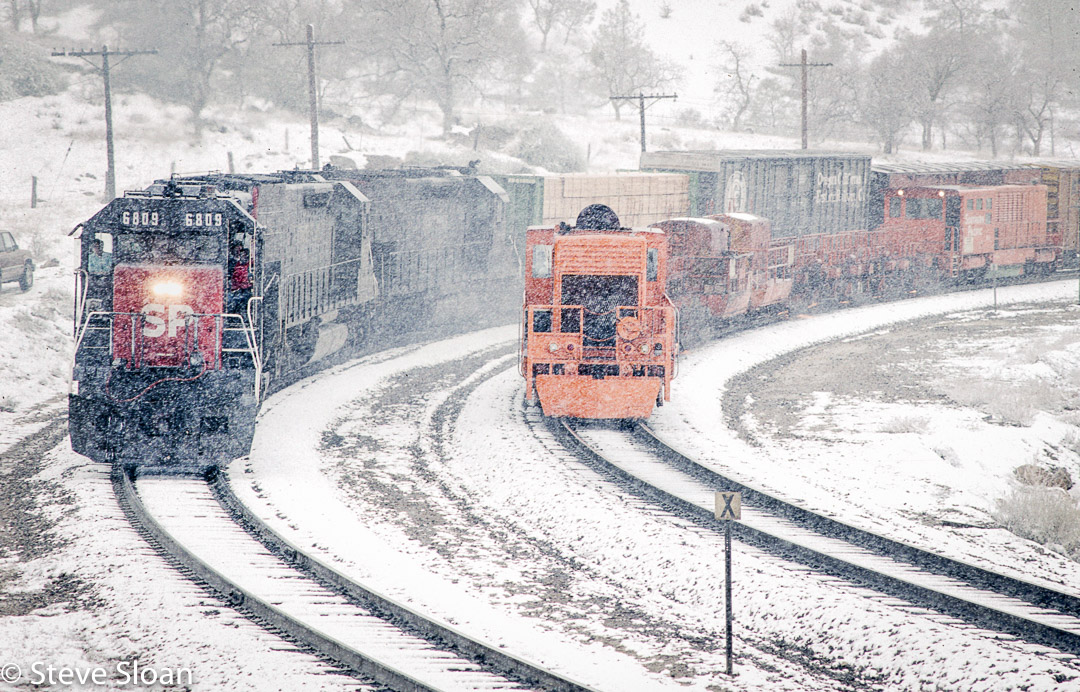 On Sunday, February 18, 1990, Southern Pacific (SP) 6809 leads a train during a snow storm, passed a rail grinder in Walong, CA.
Click on photo to enlarge
Railfan notes from 1990
< Previous Year | List of Years | Next Year >
In 1990 I lived in Patterson, CA with my first wife and our three sons. I was commuting to San Jose, CA where I worked.
Days and Trips in 1990
Unknown dates by location
Various dates and locations
Various photos and locations, specific date not known.
---
Trip or Day Outings
Trips of a day or less
On Friday, January 26, 1990, I chased trains in the valley.
An afternoon in Stockton, CA.
Trains in the snow BAK/TF, maybe a one day trip?

Saturday, March 10, 1990

A day on the Westside Line, for Flimsies
Trains somewhere.
On Saturday, March 31, 1990, I was probably on my way to work at the Manteca Bulletin, where I was a weekend photographer.
---
Other resources
---
NOTE: If anything is my "life's work" it's my train photos. — If you scan an analog photo of mine, or if you share a digital photo I took that does not have my photo credit, add something like "Photo by Steve Sloan" directly onto the image. It's not enough to say "Photo by Steve Sloan" in the text caption. People download photos off the Internet/Social Media platform and whatever is in the text does not stick to the photo. Then, they get reshared and that data is lost. I deserve credit for my work.
You may not use my photos for profit and/or as part of, or to sell, a product or service without my consent.
---
Special Thanks
All the great folks who helped me out with information for these Web pages!

This work is licensed under a Creative Commons Attribution-NonCommercial-NoDerivatives 4.0 International License.