2011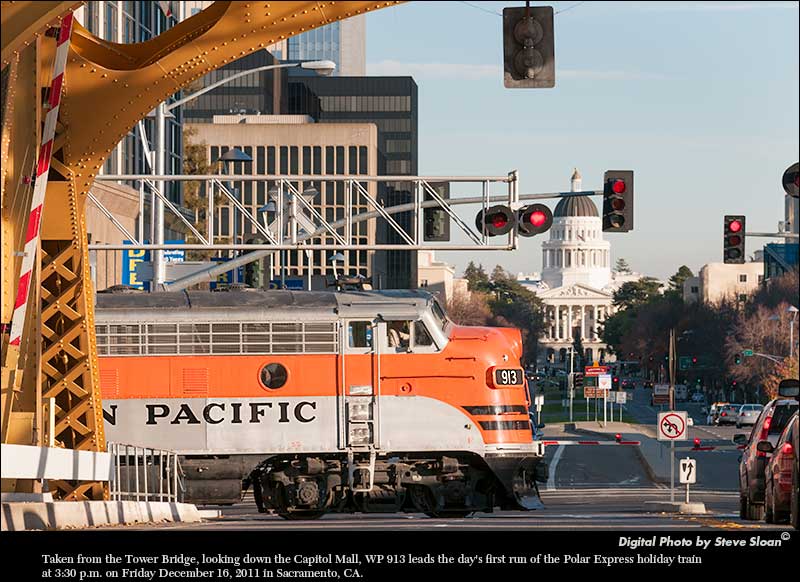 Click on image to enlarge
Railfan notes from 2011
< Previous Year | List of Years | Next Year >
Various photos from 2011
2011
Trip or Day Outings
This is outings of a day or less in 2011
UP Heritage unit 1983 (WP) was in Watsonville, CA on this day.
Catfish on the coast - At noon on Feb. 8, 2011 Amtrak Number 11 goes past the Santa Clara, California Caltrain station with Norfolk Southern on the point.
Just a quick stop in Niles on my way back from Winterail 2011.
On March 31, 2011 P42DC 154 leads the 202 on a detoured Amtrak Number 11 up Altamont Pass and through Lathrop on a record breaking warm day.
Amtrak P42 156, in a version of Phase I "Pointless Arrow" heritage paint leading train #11.
Trip to New York
In October 2011 I flew to New York
Chasing the LAL
Trip or Day Outings
This is outings of a day or less in 2011
Amtrak 184 leads train number 6 as it approaches CP RV 33 Vista in Martinez, CA on October 22, 2011.
Amtrak Heritage unit 184 is about to depart Sacramento, CA westbound on Capitol Corridor train 547.
Amtrak Heritage unit 184 is at College Park, about to arrive in San Jose, CA westbound on Capitol Corridor train 737.
D&RGW heritage unit in Milpitas, CA.
I went to Sacramento to photograph the Polar Express. With the normal steam power unavailable the F and E unit powered the train this year.
Special Thanks
All the great folks who helped me out with information for these Web pages!

This work is licensed under a Creative Commons Attribution-NonCommercial-NoDerivatives 4.0 International License.