2019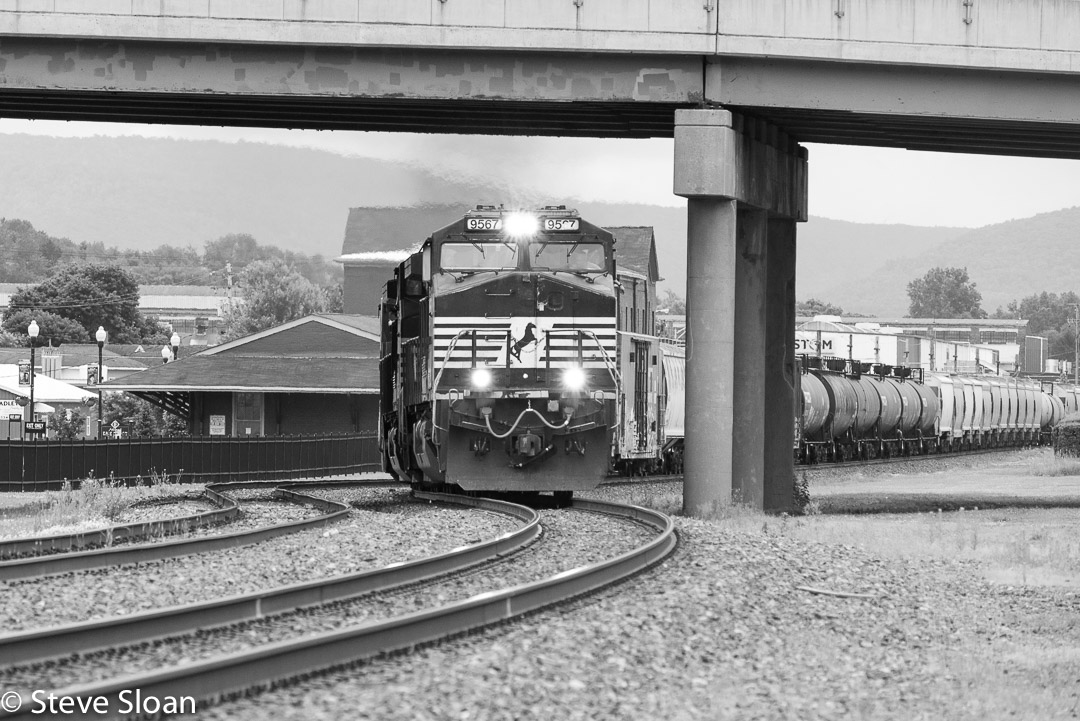 On Thursday, July 4, 2019, a westbound Norfolk Southern (NS) train, led by NS 9567, on the Southern Tier line, passes the old Erie depot, ducks under Maple City Drive and approaches Taylor St. in Hornell, NY.
Click on photo to enlarge
Thursday, July 4, 2019
For the last time, I spent the night before at the Moonlight Motel, a real dive. This was a transition day. I left Olean, NY and drove to Rochester via Hornell. This was the Fourth of July holiday. Many places were closed and folks were getting into celebrating the holiday. I photographed some trains and ended up in the lovely town of in Fairport, NY. I enjoyed a yummy sub and the reflections of the evening light on the Erie Canal.
< Previous | 2019 | Next >
New York
NS 9567, Dash 9-44CW
---
Milepost 359, County Road 44
AMTK 715 GE P32AC-DM
CSX 3043, GE ES44AH
N Main St., Fairport
CSX 3170, GE ES44AH
CSX 5442, GE ES40DC
CSX 240, GE AC4400CW
---
Notes from Day
Fairport, NY
Milepost 359, County Road 44

AM 715 WB Empire Service Train
EB Backlit & underexposed 1+1

N Main St., Fairport

6:40 pm CSX 3170, 2+2+0 stack train
7:08 pm 2+0 WB Stacks
---
Related Links
Related Assets
Digital Stills folders: 2019070401ph, 2019070402ph, 2019102901ph
Digital Video folders:
---
Social Media Links
---
Special Thanks
All the great folks who helped me out with information for these Web pages!