Industrial Railroads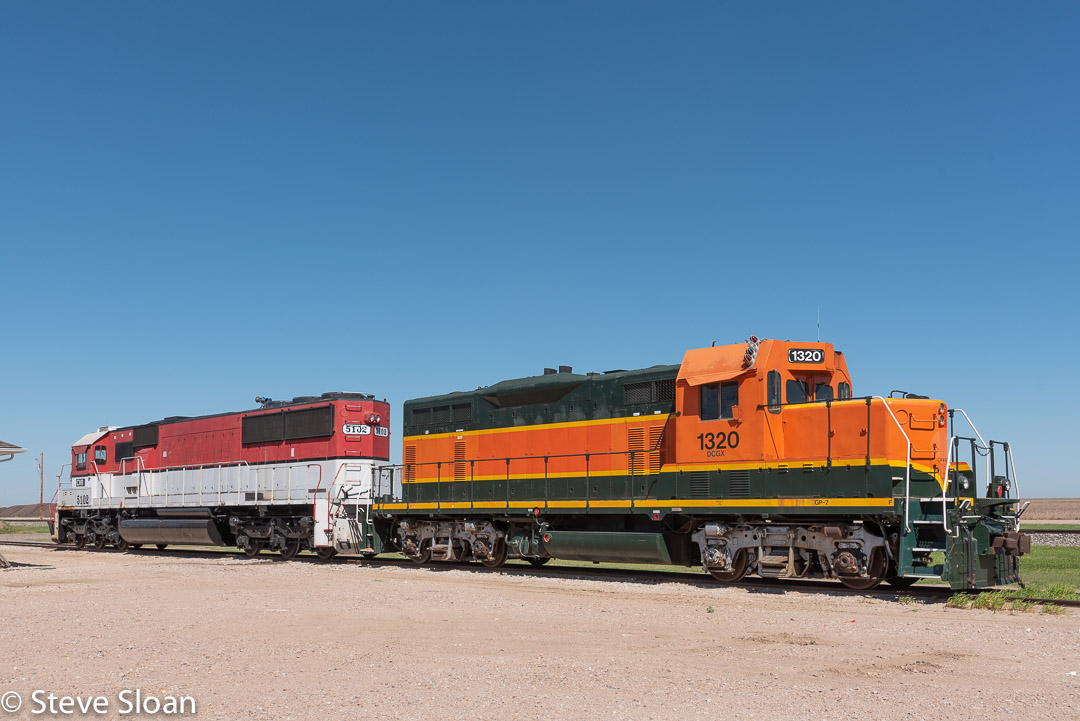 In the morning of Friday, June 28, 2019, DCGX GP7u 1320 is with Cimarron Valley Railroad SD50 5102 waiting for work in at the Grain Co-op in Ensign, KS.
I hope you enjoy these photos as much as I do.
Industrial Railroads
An industrial railway is a type of railway (usually private) that is not available for public transportation and is used exclusively to serve a particular industrial, logistics or a military site.
Industrial railroads by name or symbol or location
---
Related Links
Click on the following links to see industrial railroads:
A. L. Gilbert Company (ALGX) is located in Keyes, CA, United States and is part of the Farm Product Raw Material Merchant Wholesalers Industry.
Photos related to Alliance Ag & Grain including Right Cooperative Association (RCAX), Farmers Cooperative Company and Southern Plains Cooperative. Alliance Ag & Grain, LLC was formed in March of 2016, when Right Cooperative Association, Farmers Cooperative Company and Southern Plains Cooperative joined under the same umbrella.
The Argent Lumber Company of Hardeeville, S.C...
Photos related to the BS Co.
Photos related to the Brooks-Scanlon Corporation, a lumber company.
Clover Valley Lumber Company was headquartered in Loyalton, CA in Sierra Valley. By 1955, Clover Valley had 54 miles of railroad line. In 1957, Clover Valley sold, its new buyer began dismantling the railroad logging line in 1958.
Photos associated with reporting mark DCGX in Ensign and around Dodge City, Kansas.
The Groveton Paper Company was in the village of Groveton, New Hampshire.
Herzog Railroad Services, Inc. provides maintenance of way equipment for railroads across North America.
MacAndrews and Forbes Company is currently (2020) a holding company. MacAndrews & Forbes & Co. was founded in 1850 by Edward MacAndrews and William Forbes, a distributor of licorice extract and chocolate.

Delta Bulk Terminal (DBT)
Metropolitan Stevedore (MSC)

Photos related to the US Military.
Photos related to the PPLC.
Photos related to RG&E.
Founded in 1910 as Bradshaw Gravel Supply, Strata has been a North Dakota-based, family-owned company for more than a century.
Photos associated with reporting mark ULEX
The United States Steel Pittsburg Works were close to Concord, CA where I grew up. Click on this link to see photos of USSX.
The Waimanalo Sugar Company, on the Hawaiian island of Oahu, hauled cane from the fields to its refinery.
---
NOTE: If anything is my "life's work" it's my train photos. — If you scan an analog photo of mine, or if you share a digital photo I took that does not have my photo credit, add something like "Photo by Steve Sloan" directly onto the image. It's not enough to say "Photo by Steve Sloan" in the text caption. People download photos off the Internet/Social Media platform and whatever is in the text does not stick to the photo. Then, they get reshared and that data is lost. I deserve credit for my work.
You may not use my photos for profit and/or as part of, or to sell, a product or service without my consent.
---
Special Thanks
All the great folks who helped me out with information for these Web pages!

This work is licensed under a Creative Commons Attribution-NonCommercial-NoDerivatives 4.0 International License.