United States Steel (USSX)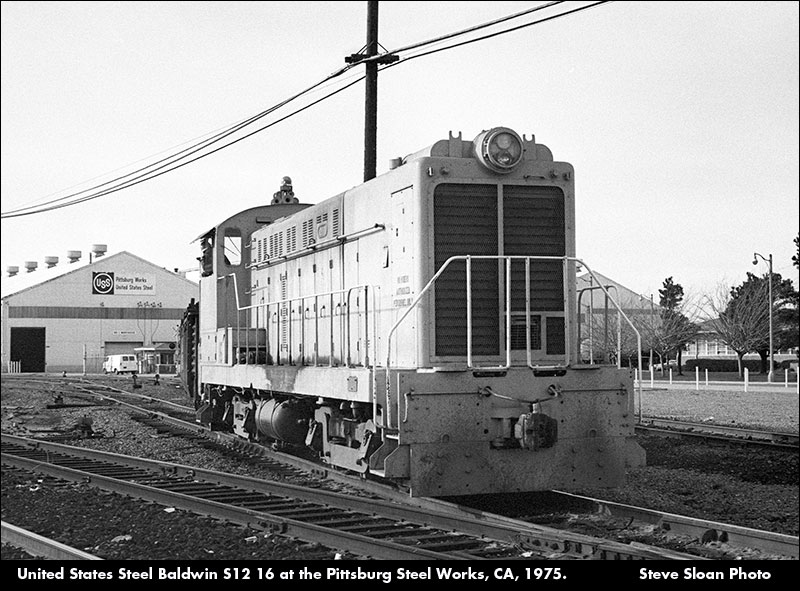 United States Steel (USSX)
United States Steel Corporation (reporting mark USSX), more commonly known as U.S. Steel, is an American integrated steel producer headquartered in Pittsburgh, Pennsylvania, with production operations in the United States and Central Europe. As of 2018, the company was the world's 27th-largest steel producer and second-largest domestic producer, trailing only Nucor Corporation.
The United States Steel Pittsburg Works were close to Concord, CA where I grew up. I hope you enjoy these photos as much as I enjoyed taking them.
Click on the following links to see pictures related to United States Steel (USSX):
USSX 13 Baldwin S8

In 1973 United States Steel Baldwin S8 13 is at Pittsburg, CA.
USSX 16, Baldwin S-12
USSX 16 is a Baldwin S-12 switcher. It reportedly was built in 1953, as Baldwin S-12 McCloud Railway (MCR) 30 construction number 75912. The following roadnames and numbers have also been associated with this locomotive: USSX 203, RAYO 203, MCR 203, FR&W 16.

In 2010: Eugene Vicknair said, "USS 16 was built in 1953 (c/n 75912) for the McCloud River Railway as their 30. In 1963, it was sold to Rayonier as their 203. It came to USSteel-Pittsburg as 16 some time in the early 70s. I have been told that this engine was painted by USS into bicentennial colors. The FRRS got the 16 and the 20 from USS in the late 1980s. We sold the 16 back to McCloud Railway in 1995. It has never run since it returned to home rails."

Jeff Moore wrote on 02-06-2010,:"As to why McCloud wanted it back...in 1996/1997 the McCloud Railway was at its pinnacle. Freight business, while in retrospect was nowhere near enough to ensure the long term viability of the railroad, was still at least decent, enough to keep two full time crews busy. The Shasta Sunset Dinner Train made its maiden voyage in June 1996, and the railroad regained title to the #25. With this background, the management decided it wanted to repatriate a Baldwin diesel as part of this heritage/tourist movement. FRRS purchased at least three Baldwin S-12's from U.S. Steel, primarily to be used as trading stock for other equipment the museum might want. McCloud Railway made the offer and brought the unit home. McCloud also reached a deal to acquire former McCloud River #31 from the Magma Arizona, but transportation costs doomed that deal.

"The only serious efforts the McCloud Railway made to bring the unit back into operation came about 1997/1998, after the #25 returned to service. The #30 had been equipped with remote controls during its US Steel days, and McCloud considered returning the locomotive to service and using it on excursion trains along with the #25, with at least some thought given to having the crew aboard the #25 also operate the #30 using the remote controls. I've also heard there was some thought given to constructing some sort of a boxcar-like shell over the unit to disguise what it really was. This never got beyond the planning phase, as by this point the railroad was struggling for its survival due to the massive storm damages suffered in the winter of 1996/1997 and the pending loss of 40-50% of the freight business.

"The #30 remains in McCloud and may be sold, or at least placed up for sale, in the near future."
USSX 16 Baldwin S-12

United States Steel (USSX) 16, a Baldwin S-12, works at the Pittsburg Plant in or about 1975.
---
Related Links
Click on the following links to see other posts related to this story:
My collection of shortline and industrial photos in Flickr.
Special Thanks

All the great folks who helped me out with information for these Web pages!