1975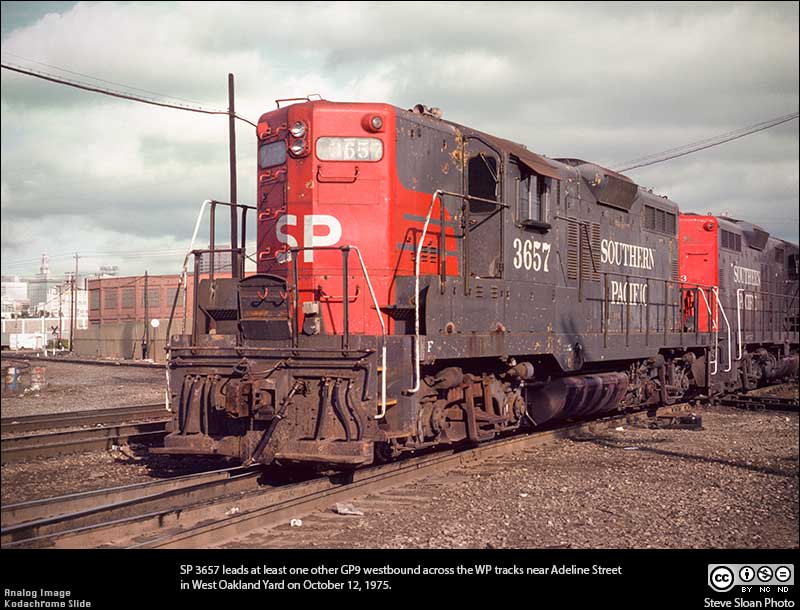 Click on image to enlarge
Railfan notes from 1975
< Previous Year | List of Years | Next Year >
Click on links below to see photos from 1975
Day Outings
A day in San Jose
---
A trip South
On this day I was in Bakersfield.
---
Day Outings
I went to Roseville.
On this day I was in Sacramento. I was about to head home after meeting Candy DuBois the girl who would five months later become my first wife.
On Sunday May 18, 1975 Cotton Belt's 9389 did it's maiden run into Oakland on the WCOAF.
Action in West Oakland in the Summer of 1975. Including SP SD9 3800.
---
Trip to Donner
I was courting Candy then and I would comine trips to visit her with trips to Donner.
July 20, 1975, Sunday

Among the trains I shot was a westbound at Boca.
---
Trip to Cajon Pass
This is a trip my soon to be first wife Candy and I made to southern California, less than a month before we married.
We were on Cajon Pass on this day. This may be the day I broke the shock mountings on my 1970 Nova driving it like it was a jeep! UP SD45 3645 led a very mixed set on this day.
---
Day Outings
In Oakland a few weeks after I got married the first time. Oakland FM being scrapped.
On October 12, 1975 I went to Oakland again.
---
Trip to Southern California
This trip included the ATSF and Trona Railway.
On October 20, 1975 I made one of my many trips to Southern California to shoot the Santa Fe and Union Pacific in the desert. SD45-2's were top of the line power then and were being used extensively.
On October 21, 1975 I made a trip to Trona and shot what was there.
---
Day Outings
Trips of a day or less
I shot 4449 at night on this date.

Donner - Thursday, November 27, 1975, Thanksgiving

4449 ran from Reno to Sacramento.

Donner - Thursday, December 4, 1975

4449 ran from Sacramento to Oakland. Morning shot in Martinez, first time Candy saw 4449.
---
Unknown Dates, 1975 - Date Uncertain, By Location
1975, Unknown Month or Day, by location.
---
Special Thanks
All the great folks who helped me out with information for these Web pages!

This work is licensed under a Creative Commons Attribution-NonCommercial-NoDerivatives 4.0 International License.