1983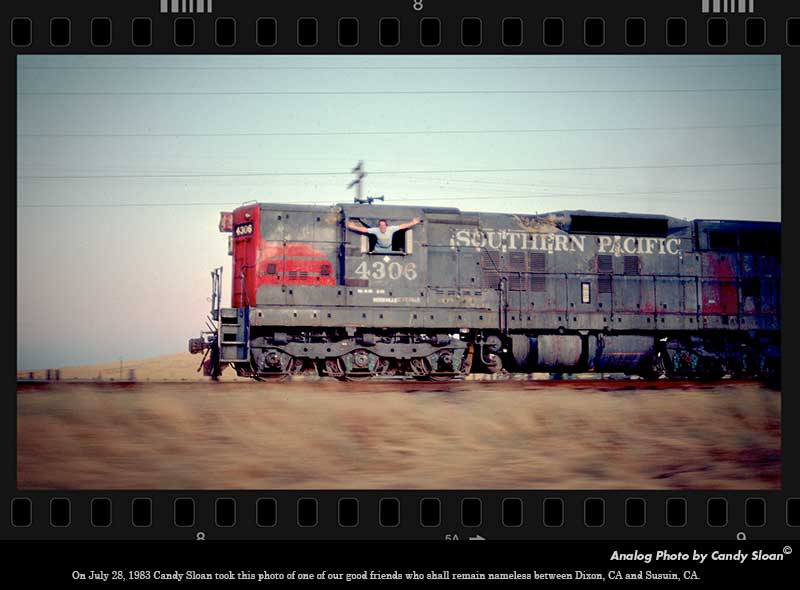 Click on photo to enlarge
Thursday, July 28, 1983
< Previous | 1983 | Next >
Photos from a weekday trip to Sacramento.
On the CalP
East of Susuin
Eastbound Action
SP 4306 EMD SD9E
4306 on the CalP

My first wife, Candy Sloan, shot this photo of a friend on the Southern Pacific between Susuin and Dixon, CA on SP SD9E 4306 on July 28, 1983.
---
Related Links
---
Social Media Links
---
NOTE: If anything is my "life's work" it's my train photos. — If you scan an analog photo of mine, or if you share a digital photo I took that does not have my photo credit, add something like "Photo by Steve Sloan" directly onto the image. It's not enough to say "Photo by Steve Sloan" in the text caption. People download photos off the Internet/Social Media platform and whatever is in the text does not stick to the photo. Then, they get reshared and that data is lost. I deserve credit for my work.
You may not use my photos for profit and/or as part of, or to sell, a product or service without my consent.
---
Special Thanks
All the great folks who helped me out with information for these Web pages!
It is appreciated if you do not repost or forward any photos I am posting to any other list, or online forum, or social network (like Facebook, Google+ or Flickr) without permission of the contributor or the photographer.
All photos are copyright the photographer unless otherwise stated. I will always try as hard as I can to get the permission of the photographer when (and if) I post work by others. When I do I will try to honor their photographic style. Please do not produce or distribute altered versions of this work.
This work is licensed under a
Creative Commons Attribution-NonCommercial-NoDerivatives 4.0 International License
.