1984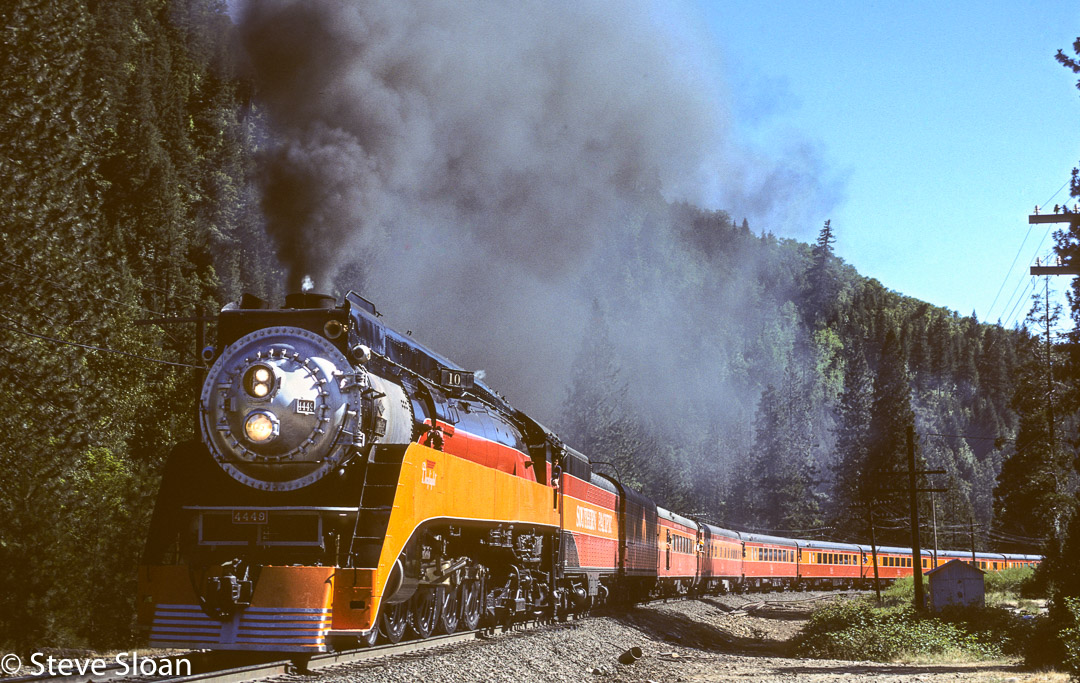 Southern Pacific 4449 leading the World's Fair Daylight returning to Portland in June 1984.
Click on photo to enlarge
Saturday, June 23, 1984, Shasta Route
< Previous | 1984 | Next >
On June 23 my two eldest sons and I chased the daylight train to Portland. Through the mountains we stopped at several locations to photograph the train. At the time I had a 1979 Dodge Omni. At Sims my eldest son opened a rear door and a pickup truck backed into the door as it was leaving to chase the train. We followed as best we could to Klamath Falls where my friend Mike Devlin lived. With the help of some 2x4s we straightened out the door as best we could. We continued the chase to Portland and then went on to British Columbia.
Between Redding and Klamath Falls
Various Locations
SP 4449 Lima 4-8-4, SP Class GS-4
SP 4449 near Dunsmuir in 1984

On June 23, 1984 my older sons and I chased SP 4449 and the daylight train to Portland. This photo was taken as it was approaching Dunsmuir.

SP 4449 Video, Shasta line to Portland

From some super8 movies I shot during the 1980's converted to digital video. This short movie clip was made of the World's Fair Daylight returning to Portland in 1984. My then very young sons and I chased the train north. This video is unpublished and features a full daylight train with McCloud steam, SP, Amtrak and even some BCR Alco action. Since the film was silent, some music from the band Everyday Jones was dubbed in to give it a bit of a Winterail flavor.
---
Related Links
---
Social Media Links
---
NOTE: If anything is my "life's work" it's my train photos. — If you scan an analog photo of mine, or if you share a digital photo I took that does not have my photo credit, add something like "Photo by Steve Sloan" directly onto the image. It's not enough to say "Photo by Steve Sloan" in the text caption. People download photos off the Internet/Social Media platform and whatever is in the text does not stick to the photo. Then, they get reshared and that data is lost. I deserve credit for my work.
You may not use my photos for profit and/or as part of, or to sell, a product or service without my consent.
---
Special Thanks
All the great folks who helped me out with information for these Web pages!