2019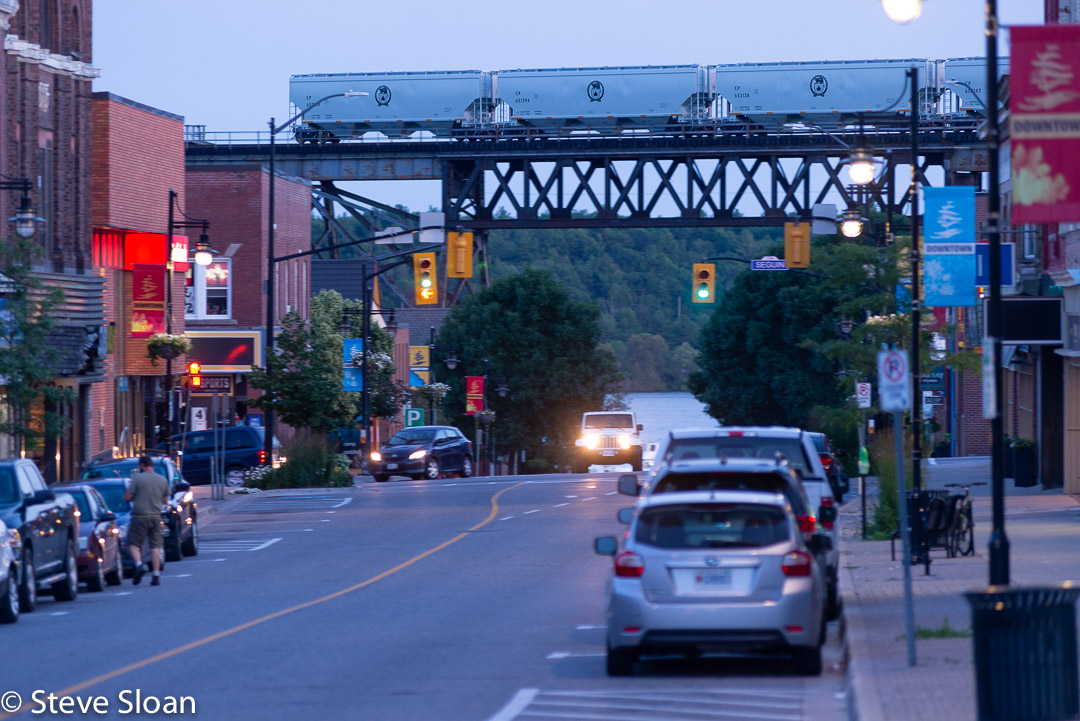 On Monday, July 22, 2019, a westbound Canadian Pacific grain train goes across the trestle in Parry Sound, Ontario. The rear end of this train would turn out to be the only train I would photograph on this bridge.
Click on photo to enlarge
Monday, July 22, 2019
< Previous | 2019 | Next >
Early that morning I left the motel in Niagra Falls. I met two locals, Mike and Bill, at Port Colborne in an attempt to shoot the Trillium Railway but had no luck with Trillium. But we did see some interesting action around Welland. After that I set off on my own to Guelph Jct. to shoot the Ontario Southland. It was a big driving day that took me ultimately past many kilometers of lovely country to Parry Sound, Ontario where I spent the night.
Ontario, Canada
LTEX 1014, EMD SW1000
---
MPRX 101, Centercab
CN 8963, EMD SD70M-2
---
OSRX 180, MLW RS18u
OSRX 434462, M930 Caboose
OSRX 506, MLW RS23
CP 1116, MLW RS18u
---
CP 434540, M930 Caboose
---
Parry Sound Trestle
---
Notes from Day
Mike and Bill
Guelph Junction, James Bay Junction, North, Parry Sound, CP - Renolds, CN - Boyne
LTEX 1014 ex DRGW SW1000?
Oxy Vinyls, Niagara Falls
OSH, MPRX, 101, Center Cab, Welland & Rusholme Rd.
Port Robinson, CN Train Over Bridge
---
Related Links
Related Assets
Digital Stills folders:

2019072202ph (Nikon D750 24~120mm f4 lens)
2019072203ph (Nikon D600 80~200mm f2.8 lens)
2020082304ph (Apple iPhone8+)

Digital Video folders:
Special Thanks
All the great folks who helped me out with information for these Web pages!