1989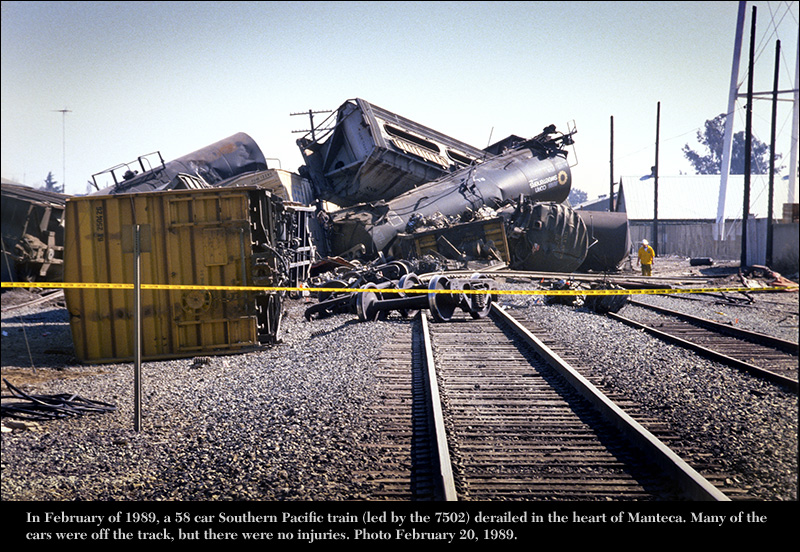 Click on photo to enlarge
Monday, Feb 20, 1989
< Previous | 1989 | Next >
On Feb. 20, 1989 due a blockage on Southern Pacific's valley route, caused by the 7502 derailment the Southern Pacific rerouted many trains from the valley line to the then seldom used westside line. This was posted to Trainorders in 2010. According to the LA Times, "Railroad officials said 48 cars (of an 82 car train) were knocked from the tracks and three of them contained residue from chlorine, phosphoric acid and hydrocarbons." According to the same source, "Mike Irvine, an SP division superintendent, said the train was traveling at 50 m.p.h. when the locomotive's weight snapped a rail bolt, causing the derailment."
Valley Line, CA
Manteca, CA
SP 7502 EMD SD45R, SP Class EF636LR-1
Westside Line, CA
Westley, CA
SP 7373 EMD SD40R, SP Class EF630R-2
SP 7375 EMD SD40R, SP Class EF630R-2
SP 7546 EMD SD45R, SP Class EF636LR-3
Special Thanks
All the great folks who helped me out with information for these Web pages!
It is appreciated if you do not repost or forward any photos I am posting to any other list, or online forum, or social network (like Facebook, Google+ or Flickr) without permission of the contributor or the photographer.
All photos are copyright the photographer unless otherwise stated. I will always try as hard as I can to get the permission of the photographer when (and if) I post work by others. When I do I will try to honor their photographic style. Please do not produce or distribute altered versions of this work.
This work is licensed under a
Creative Commons Attribution-NonCommercial-NoDerivatives 4.0 International License
.