2014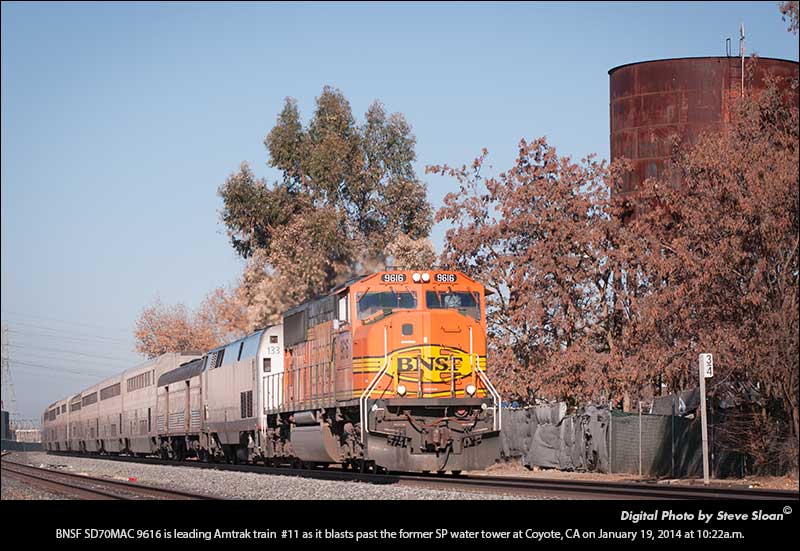 Click on photo to enlarge
Railfan notes from 2014
< Previous Year | List of Years | Next Year >
Days and Trips in 2014
Day, or less, trips
BNSF SD70MAC 9616 is leading Amtrak train #11 as it blasts past the January blossoms at the former SP water tower in Coyote, CA at 10:22 a.m. Sunday, January 19, 2014.
UP northbound officers special at San Carlos St. in San Jose, CA with GEVOs 8060 and 8059 plus business cars Stanford and Sunset.
I had meetings in Sacramento the following two days, so I met a friend for breakfast in Folsom on this Sunday then spent the afternoon of the 27th in Roseville watching trains.
Photos taken at the June 21, 2014 meeting of the Bay Area Prototype Modelers (BAPM) in Richmond, CA.
Donner Trip
Photos taken at the June 27, 2014 on the first day of a Donner Trip. I drove 247 miles. I left home at 9:46 am.
Photos taken at the June 28, 2014 on the second day of a Donner Trip. We woke up shortly after sunrise, had cereal and Ken made coffee on his habachi.
This was the last morning waking up in the campsight. As I got up I saw two eastbound no-grainers from the campsight and I could tell the first had an unusual locomotive. We decided to chase this train and another that followed it.
Special Thanks
All the great folks who helped me out with information for these Web pages!

This work is licensed under a Creative Commons Attribution-NonCommercial-NoDerivatives 4.0 International License.