Amtrak California Zephyr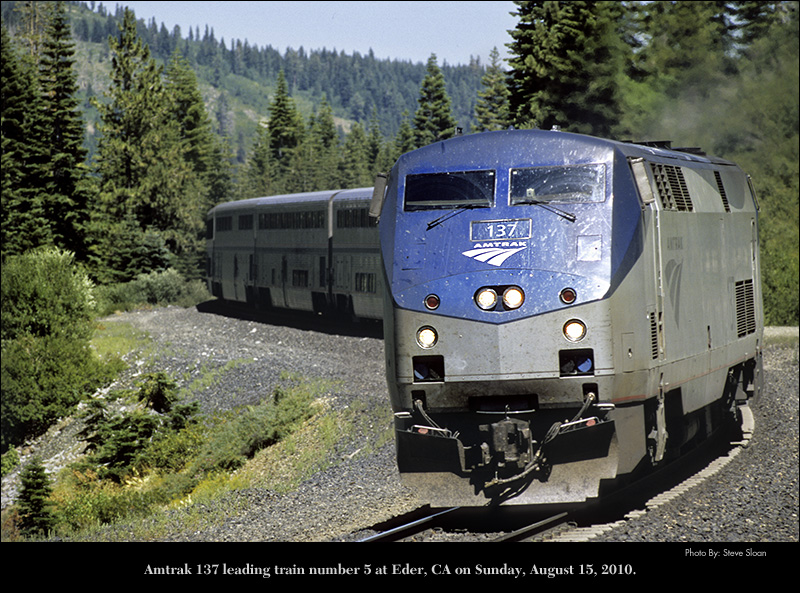 Click on image to enlarge
I hope you enjoy these photos as much as I enjoyed taking them.
Amtrak California Zephyr
Click on the following links to see pictures related to the Amtrak California Zephyr:
Amtrak 87 GE P42DC
Amtrak 87 in Yuba Gap

At 5:02 p.m. on June 27, 2014 a late Amtrak train 5 has Amtrak 87 and 78 for power in Yuba Gap, CA.
AM 137 GE P42DC
Number 5 at Eder

Amtrak 137 leading train number 5 at Eder, CA (Donner Pass) on Sunday, August 15, 2010.
AM 140 GE P42
Number 5 at Davis

Amtrak train number 5 is at Davis, CA at 7:02 p.m. on Thursday, August 12, 2010. The sun is reflecting on the side of the diner car.
AM 159 GE P42DC
Five emerges from Shed 10

Amtrak number five emerges from Shed 10 on the UP Roseville Subdivision (Donner Pass Line) at 5:07 p.m. on August 14, 2010. This train has Private Varnish cars Silver Splendor and Pacific Sands.
AM 175 GE P42DC
Six approaching Shed 10

On August 14, 2010 train number six approaches Shed 10 on Union Pacific's Roseville Subdivision (Donner Pass).
AM 184 GE P42DC - Heritage Unit
184 on number 6

At 9:56 a.m. Amtrak 184 leads train number 6 as it approaches CP RV 33 Vista in Martinez, CA on October 22, 2011.
Trains 5 & 6 - Am 198 & 203 GE P42DCs
Train 5 - Am 203 in Cisco, CA

On June 29, 2014 at 1:50 p.m. a westbound Amtrak Train 5 with Am 203 leading and another unit behind it and with three private cars, Iowa Pacific's Baton Rouge, Scenic View, Colorado Pine on the rear is in Cisco, CA exiting Cisco Tunnel 38.

Train 6 - Am 198 in Cisco, CA

On June 29, 2014 train 6 is heading east at Cisco, CA.
AM 426 EMD E9
E unit in Oakland

Amtrak 426, an E9, was sitting at the 16th Street Station in Oakland on number 6 while a string of refers passed by in 1974.
AM 586 EMD SDP40F
SDP40F 586 hustles number 6

Amtrak SDP40F 586 hustles train number 6 past Anderson Lumber, near McClellan AFB along Roseville Road at Planehaven in Sacramento, CA in Feb. 1978.
Amtrak 198 GE P42DC
Amtrak 198 on 5 at Shed 47

Westbound Train 5 with Am 198, 130 at Shed 47, on the Union Pacific above Donner Lake, on the Donner Pass Line, in California at 12:05 p.m.on June 28, 2014.
Related Links
Click on the following links to see other posts related to this story:
My collection of many train photos in Flickr
Special Thanks!
To all the great folks who have helped me out with information for these Web pages!

This work is licensed under a Creative Commons Attribution-NonCommercial-NoDerivatives 4.0 International License.