2019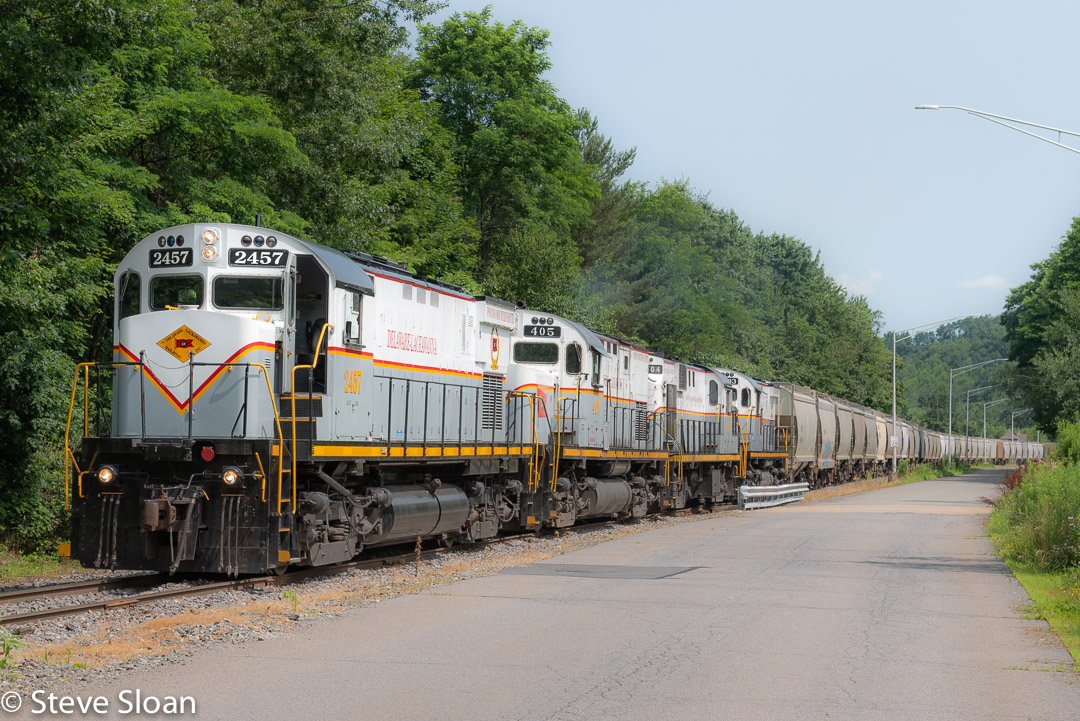 Delaware-Lakawana Railroad (DL) ALCo C425 2457 (former SPS/BN) is leading the set 2457, 405, 1804, 2403 on train SC7 along Power Blvd. at Archibald, PA on Tuesday, July 9, 2019.
Click on photo to enlarge
Tuesday, July 9, 2019
Scranton — After a bit of time at Bridge 60 and Steamtown, I drove to Archibald, PA and followed DL train SC7 back towards Scranton. Back in Scranton I went to the shops and photographed around there. Then I started my long drive to my friend Ginny and Laurence's in Woodbridge, CT. I went via the The Danbury Railway Museum in Danbury, CT. It was closed so I only grabbed a few shots through the fence there. Then I drove on to Woodbridge, CT, where I had dinner with, and stayed with, friends.
< Previous | 2019 | Next >
Pennsylvania
Groveton Paper Company 7, Vulcan Iron Works, 2-4-2T
RDG 902 & 903 EMD FP7s
RDG 2124 T-1 Class Baldwin/Reading 4-8-4
UP 4012 ALCo 4-8-8-4 Big Boy
RDG 467 ALCo RS3
P&W 401 St. Louis Car Co. Work Trolley
MacAndrews and Forbes Company 10, GE, electric
---
Train SC7 with 2457, 405, 1804, 2403
---
DH 35712, International Car Co. Wide Vision Caboose
Train SC7 with 2457, 405, 1804, 2403
---
DL 2461, ALCo C425
SPAX 206, Brill, Bullet Car
CNJ 1554, ALCo RS3
VIA 6763, MLW FPA4
CNUR 327, ALCo C425
DL 4118, ALCo RS3
DL 211 ALCo RS32/DL721
DL 3643, MLW M636
MHWA 2045, MLW M420
DL 4204, MLW C424
DLWR 5460, EMD GP8
DL 7222, ALCo C420
DL 414, ALCo C420
RRPX 41, MLW M636 (DL 3641)
DL 1805, ALCo RS11
DL 596, ALCo FA2
DL 204, ALCo RS3
DL 134, ALCo RS3
DL 1870, ALCo RS11
---
Connecticut
The Danbury Railway Museum, Danbury, CT
CDOT 2006, EMD FL9
---
Notes from Day
SC7 with 2457, 405, 1804, 2403 starting at Carbondale. It's easy to catch. A lot of little towns. Up Strawberry Hill connector Gives cars to BR1.
---
Related Links
Related Assets
Digital Stills folders:

2019071104ph (Nikon D750 24~120mm f4)
2020061502ph (Apple iPhone 8+)

Digital Video folders:
Special Thanks
All the great folks who helped me out with information for these Web pages!